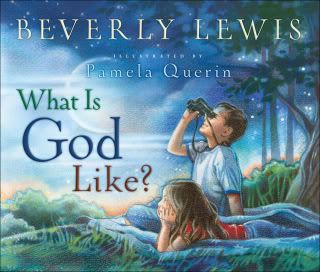 Over the past several years, I have enjoyed several books by Beverly Lewis. Her stories about Amish characters and their lives are bestsellers, and I highly recommend them.
One of Beverly Lewis' newest releases, however, is a book for children. What is God Like?
is a beautifully written conversation between a young boy and his sister. After their father leaves for a business trip, the children discuss the similarities between their earthly father and their heavenly father. Additionally, as the children play together, the young boy teaches his sister about the characteristics of God that go above and beyond the capabilities of earthly fathers.
Throughout this story, Beverly Lewis masterfully weaves in answers to common questions that children ask about God: Can God see me all the time? Does God sleep? Does God change? The illustrations by Pamela Querin are beautiful and engaging as well. The book also contains a scripture at the bottom of each page to reinforce the principles mentioned in the text. Not only is this a fun story to read, but it is one that will help children grow in their understanding of God and His word.
If you are a fan of Beverly Lewis, or you are interested in Christian books for children, What is God Like?
is an excellent choice.
Lauren is a wife, a mother of two, and an avid reader. She blogs at Baseballs and Bows.