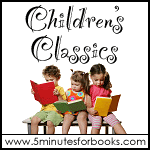 It's time for another Children's Classics carnival. As we mentioned last month, this week we are looking at books that have a Christmas theme. (Something to do with this being the month of December and all.) If you have a book on another December holiday that you would like to share, please feel free to do so.
For example, here are a few Christmas books that I've looked through in the recent future that I've shared with my son:
I've Seen Santa is published by Tiger Tales Press. It is the story of a little bear who wants to wait up and see Santa. He wants to make sure Santa will fit down the chimney (and his dad proves that it's possible, creating a wee bit of a mess in offering the proof), and he's worried that Santa won't have time to make it to his house. Even after little bear is put to bed, he has a hard time falling asleep because he wants to see Santa. He listens as his mommy and daddy go to sleep and then hears some glugging noises. Upon investigation he discovers that daddy bear is drinking Santa's milk and eating Santa's pie! Undaunted as he is shuffled off to bed, little bear is drawn back into the living room and discovers mommy bear filling the stockings! All three bears then decide to sit downstairs and wait to see Santa. The only problem is that they all fall asleep so they didn't get to see Santa after all – but Santa still sees them! This book is illustrated by Tim Warnes and I LOVE how cudly he makes this bear family look and feel. My two year old just kept wanting to "HUG!" the pages. The bears are that cute.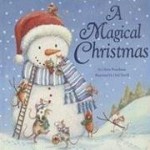 Secondly, I personally am in love with A Magical Christmas, also published by Tiger Tales. This is the story of an enthusiastic and large mouse family who are each contemplating what it is exactly that makes Christmas feel so magical. The answer at the end is that it is love that makes the idea of Christmas magical. That, my friends, is not a message I'm going to argue with. One of the BEST parts about this book is that the pages are textured with this sparkly material so that the lamplight sparkles as does the snow and ribbons which decorate Christmas packages and surprises. I love the way Gail Yerrill illustrated this book and I intend to keep this book alive in our home for some time. I absolutely love it!
So what books, classic and otherwise, do you enjoy with your children and family during the holiday season? We want to hear about them!
Please share. Write a post on your own blog (or in the comments) reviewing one of your favorite holiday books. Then link that post directly to the Linky here. If you happen to link up incorrectly, if you refresh the page and see a Smiley Face, you can click on that to remove your link and try again. Or you can email me or leave a comment, and we'll fix it for you.
As always, thanks for being a part of the community and Merry Christmas!