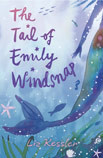 Hmm. I have mixed emotions about this book, truly. On the one hand, The Tail of Emily Windsnap is one of the more imaginative tales I have ever read. Written by Liz Kessler and published by Candlewick Press, this is the story of a young girl who makes a discovery about herself the moment she is first immersed in water — which happens to be in her seventh grade gym class. Upon being immersed in water she felt a strange sensation in her legs, as if they were being joined together. In actuality, they were! As it turns out, Emily is part mermaid.
*****SPOILER ALERT!******
(I normally wouldn't give a spoiler but in this particular case, if you want to make a good decision about whether or not to hand this book over to your teen, you should know the facts. Just don't have your teen read my review and all will be well. – ha)
This book is journey of self-discovery for Emily as she uncovers the secrets of her mysterious past. Her mother is human but her father is a mermaid and Emily inherited the mermaid gene from him. The reason it took so long for her to discover this was because love and marriage between humans and mermaids is strictly forbidden in the mermaid kingdom. Neptune, the ruler of the merpeople had strictly forbidden intermarriage between the two species but Emily's mother and father had disobeyed his orders over twelve years prior to the beginning of the story. The result of their romance was, of course, Emily. Once Neptune discovered this relationship he had Emily's father put into the mermaid prison. Emily's mother had her memory wiped after her merman husband was imprisoned and does not remember her past until Emily makes the discovery and helps nurse her mother's memory back to health.
Again, on the whole, I thought the book was well-told, interesting, captivating, etc. I loved Kessler's use of sea lore in relation to sirens who were used to sink ships. I loved her descriptions of mermaid history. I liked the character of Emily.
My chief reservation and caution that I'd give any potential reader is that Kessler makes the statement – completely in relation to mermaids and humans marrying – that no law should make it illegal for people who love each other to marry. Take it or leave it. That argument exists in the book. I would venture a guess to say that any teen reading this book would not recognize the current political debate raging in America over who is allowed to marry and who is not when reading about Emily Windsnap's parents. It stood out to me as an adult reader but my twelve year old self would have been sure to miss it. I'm just letting you know it's there.
The last thing is that there is a reference to Emily's babysitter who is a psychic and is mentioned to have brought tarot cards over when babysitting. She plays an extremely minor role in the book and is not a key character. She appears to be more heavily involved in the end of the story and in no way is her mysticism mentioned in the later half of the book (that I caught on to).
This book is imaginative and creative. Any reader would need to decide their own comfort levels in picking up this book. For my part, I recognized the potential political arguments that Kessler was raising and still enjoyed the book for the adventure and mystery of the sea. Maybe it's because I'm a girl, but the idea of mermaids has always been fascinating to me. I loved Disney's Little Mermaid and this book rather fell into the same category as far as my enjoyment levels were concerned.
If you've read it and have an opinion to share on it, feel free to do so. At the most I'd say, as parents, it's a good idea to be aware of the themes in the book and topics that your son or daughter might question you about. If you discover that you love Emily Windsnap, you'll be delighted to note that there is a sequel entitled Emily Windsnap and the Secret from the Deep. I haven't read that one so if you have – please DO leave a note about it and tell me what you thought!
Carrie comes by her book obsession honestly, having descended from a long line of bibliophiles. She blogs about books regularly at Reading to Know.