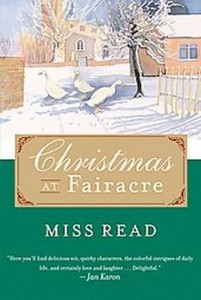 I recently read a couple of the books in the Fairacre series by Miss Read. (You can read my review of them over on my personal blog.) Suffice it to say, I loved them! As Jan Karon is quoted as saying on the front of the books, "If you've ever enjoyed a visit to Mitford, you'll relish a visit to Fairacre." In fact, Jan Karon quotes seem to appear on the front covers of all of the books. Apparently she's a fan of Miss Read. I am also now a fan.
Fairacre is a quiet little English town where everything moves slowly and everyone knows everything there is to know about everything else. This is a place where gossip flies faster than the birds do and yet there is a special kinship among the population. It's like the little town of Avonlea in Lucy Maud Montgomery's stories and definitely Mitford-esque. (The people just have cooler accents in Fairacre!)
I was so happy to get my hands on Christmas at Fairacre because a.) I love Christmas stories and b.) I'm lovin' Fairacre itself. Although the other books in the series are told from the viewpoint of Miss Read, the local school teacher, and are centered around the schoolhouse, Christmas at Fairacre takes a different approach. It is a collection of three stories surrounding Fairacre but has nothing to do with the school or Miss Read. Still, it is cozy and classic and had me wanting to go Christmas shopping and wrap presents. (In fact, I ended up doing both after reading the story The Christmas Mouse, so I should probably be careful of just how many Christmas books I read this holiday season! It could prove deadly to the pocket book!) Instead of shopping, I'd say cozy up with a spot of tea (if you really want to get into the spirit of this English village and its inhabitants) or hot chocolate. Soon you'll be lost in snowfalls, children's dreams of Father Christmas, heart and hospitality like you've never experienced.
The Fairacre series is truly a delight. However, if you'd like not to get involved in another series, Christmas at Fairacre stands alone and can be enjoyed separately.
Carrie comes by her book obsession honestly, having descended from a long line of bibliophiles. She blogs about books regularly at Reading to Know.