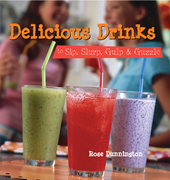 I'm a really big fan of the story of the Little Ren Hen. She did the work of making the bread while the rest of the animals sat around expecting to feast off of her hard labor. Well, she was going to have none of that! I rather like her attitude that if you refuse to help work and/or prepare for the food, you shouldn't expect to partake. The bottom line that appeals is: pitch in and help out!
To that end, I'm on the hunt for kids cookbooks that make cooking look both easy and fun. Now I have a two year old right now and I can't exactly let him run loose in the kitchen. However, it's a point of fact that he's running under my feet as I cook even now. I let him explore as I cook because I want the kitchen to be a familiar place to him. I want him to know how to put a basic meal together. He's slowly picking things up. When making cookies or bread I can tell him I need the nutmeg or cinnamon and he'll go to the spice cabinet and correctly identify the spices I've requested and brings them to me. I guess it's never too soon to start familiarizing children with the basics of food prep (like good spices, right?)!
I came across Lark Books which have a collection of children's cookbooks by Rose Dunnington. I've found these books at both Borders and Barnes & Noble so they should be easy to locate. They are also very reasonably marked at $9.95 each which is pretty awesome considering these are hard bound/spiral books which makes them very sturdy and difficult to destroy. I also liked these books because each page is covered in pictures. (Of course, I admit that I wish "adult cookbooks" had pictures. I'm a big fan of pictures in recipe books.) These books by Dunnington do not disappoint in that department.
The recipes contained therein are appealing to kids and at the end of each book there is a glossary of terms and pictures of various kitchen gadgets and equipment that will be necessary in preparing the various recipes. There are a great number of Dunnington cookbooks to choose from, from Super Sandwiches to Big Snacks, Little Meals. Our particular favorite is Delicious Drinks. We're quite the smoothie fans and a whole book of suggestions on how to make yummy smoothies and drink concoctions is a terrific find!
I'll be giving away a copy of Bake It Up on my personal blog, Reading to Know, so pop on over and enter the drawing if you think you might enjoy using this book with your own kids. I highly recommend you give them a try!
Carrie comes by her book obsession honestly, having descended from a long line of bibliophiles. She blogs about books regularly at Reading to Know.
Running a household can be tougher than running a business, so why not use that experience to get an online MBA from Marylhurst University in the comfort of your own home?