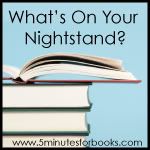 Do you read more as the cool weather sets in and the holidays approach? Let us know what you've been reading or what you plan to read in the next month.
Perhaps your love of reading gets edged out by all of the tasks on your list. If that's the case, join us at 5 Minutes for Books in sharing some of your favorite cookbooks or activity books that you'll be turning to this month for inspiration.
As a reminder, you can participate here in a variety of ways:
Share a list of books you hope to read this month, with or without a picture of the stack.
Go into a bit of detail about what you're reading and why. How did a particular book come to be on your nightstand? Why are you reading this book this month?
Give a few quick reviews of books that you read over the past month.
So, now it's your turn. Link up and share "What's on Your Nightstand?" Please link to the direct post, NOT your main page. If you enter the wrong link, you can email me or leave a comment, and I can delete it. You can also delete it yourself by refreshing the page and then clicking on the smiley face that should appear next to the link that you entered.
If you don't have a blog, feel free to leave us a comment with your Nightstand list.
This is my final plea, but I know some of you may be new to the site from this carnival: Have you answered our reader survey? I will publish the results next week, but if you haven't done it, could you take 2 minutes right now?
What's on Your Nightstand? Participants
Powered by… Mister Linky's Magical Widgets.