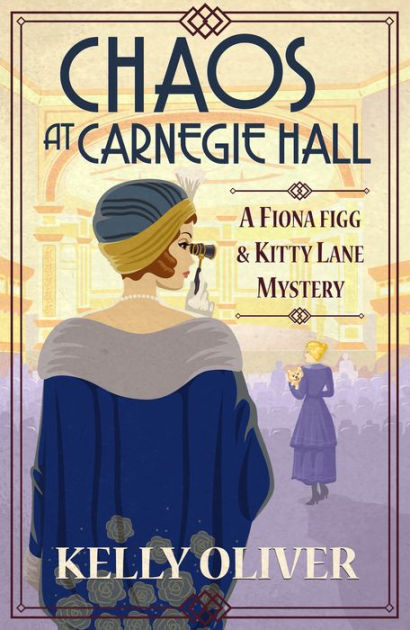 Fiona Figg is frustrated. She has already solved more than one mystery, found a killer, and revealed a spy in the process, but the men she works with at the War Office seem to think she's just there to make them tea. When the notorious German spy Frederick Fredericks, known to her from previous adventures, invites Fiona to hear a soprano sing at Carnegie Hall, her boss sends her from London to New York to find out what's up. But he also asks her to chaperone his niece on the journey, and sends Clifford along to chaperone them both. Does no one take her seriously?
Fiona isn't thrilled with her charge, Miss Kitty Lane. The young woman seems frivolous and several aspects of her persona don't seem to add up. The voyage is mostly uneventful, but Fiona sees mysterious figures in black throwing something–a dead body perhaps–overboard. Onboard, she makes acquaintances with notorious (real life) figures like Margaret Sanger and Dorothy Parker. In New York, they continue to be present, as she and Kitty deal with the suffragette movement and Sanger's crusade to provide birth control to poor women. But it's when a man is shot and killed in the box next to hers at Carnegie Hall that Fiona really needs to put her mind to things and figure out what's going on.
Chaos at Carnegie Hall is a fun light read, with just enough real history to give it some depth. You'll enjoy Fiona's antics with disguises, her clashes with Kitty, and her genuine intelligence as she attempts to solve not only matters of state, but matters of the heart as well.
Book Links:Amazon | Barnes & Noble | Goodreads
Author Bio:
Kelly Oliver is the award-winning and bestselling author of three mystery series: the seven-book suspense series, The Jessica James Mysteries; the three-book middle grade series, Pet Detective Mysteries; and the four-book historical cozy series, The Fiona Figg Mysteries. Chaos at Carnegie Hall is the latest Fiona Figg mystery, and the first to feature sidekick, Kitty Lane. When she's not writing novels, Kelly is a Distinguished Professor of Philosophy at Vanderbilt University.