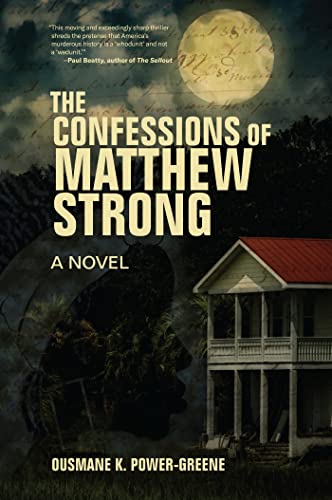 The Confessions of Matthew Strong is one of those books that sets out to present an idea, embeds that into a story of people's lives, and produces a work that is both thought-provoking and engaging. I recommend it highly.
Why am I starting this review at the end? Well in a way the book itself does that. It starts with Allegra Douglass sharing with us the confessions of Matthew Strong, the man who abducted her along with 11 other black girls and women, and held them in plantations all over the south. She doesn't want to at first–doesn't want to platform his repellent views, doesn't want her name associated with him. Only a few weeks earlier, she was awarded the Distinguished Chair in Philosophy at a top university, and she's finally receiving some of the recognition she deserves, after painstakingly working her way out of Alabama, out of the new post-Jim Crow and the rallies and protests. And then there was the missing student, the detectives stopping by her apartment, and finding a letter written to Allegra from "Matthew Shields," an infamous white supremacist who murdered blacks with impunity in the years immediately following the Civil War. She begins to get regular correspondence from him. (I don't think it's a spoiler to tell you that this is in fact Matthew Strong)
The same day that she receives the award, her grandmother dies. This necessitates a trip back, back to Alabama, where she still has family who are vulnerable. Back towards danger. We know she'll survive it, but we are still worried. So much is at stake.
Written in an engaging voice, The Confessions of Matthew Strong is ironically named, because it is in fact the story of black resistance to white oppression rather than a white man's spouting of racist nonsense. Although the topic is bleak, the story is not gratuitous or exploitive. Because it is written as fiction, it's really gripping, and knowing that the protagonist survives does not stop you from turning pages late into the night. It's really well done. Definitely add this one to your TBR pile.