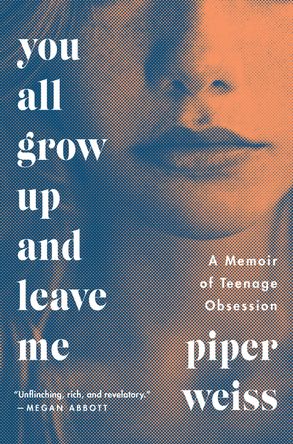 Piper Weiss' new memoir is an unlikely blend of true crime and personal memoir, specifically of her teenage years, but it works. What makes it work is the writing. Weiss is an excellent writer, with a wryly skewed view of the world, and her baring of her teenage self–her thoughts, self-hatred, mixed up views–makes her story all too relatable. Her story is framed with her brush with true crime–she was a student of tennis coach Gary Wilensky and 14 years old when it came out that Gary had stalked and attempted to kidnap another of his students. However, it's her reaction that makes the book so interesting. In essence, she wonders why she wasn't chosen as the object of his obsession, and that in turn becomes her own obsession, as she skillfully looks at what it means to be part of a small group led by a magnetic and charismatic man whose own motives are fatally flawed.
Weiss grew up in Manhattan, the privately-educated daughter of a family who immigrated just a generation back, a frizzy-haired crooked-nosed Jew in a school of straight-haired WASPs. I am using her own description of herself, not validating it, because I know how it feels to be an outsider even though I myself am blonde and of Northern European descent. It's part of being a teen, right? Even though she's at the same school for all 12 years, even though she has a group she hangs out with, she still feels that she's not quite right. Following the rules most of the time, fostering a close relationship with her own mother even though there are cracks in it, Weiss muddles her way through, and her description of her teenage self is pitch-perfect.
When Wilensky comes along, he's what Weiss calls a "child ally," someone who breaks the rules of adulthood and gets away with it, someone who's on the side of the child. His own darker proclivities were, of course, hidden at this point. He was instead a beloved tennis coach, someone with wild gimmicks who offered prizes for high performance, would let the girls (it was always girls he coached) eat all the candy they wanted, someone who would play tennis on roller skates and give the girls rides from their homes or schools to practice and then back again. He'd take "his girls" out to private dinners, send them special Valentine's, all in full view of their parents, who trusted him implicitly. He was someone who would open himself up to his young charges, be vulnerable to them. "I'm depressed," he told Weiss once when the two of them were alone in the car. "Me too," she responded, breathlessly, sure they understood each other on a deeper level. Of course now, reading his description sets off wailing alarms in our heads, but this was a simpler time, the early 90s, when the word "stalker" was just beginning to appear in common parlance.
Weiss examines her own need to know all the details of this story, how even now, she feels a sense of rejection that she wasn't the one chosen as the object of his obsession, in spite of knowing how messed up that is. How can she still feel this about a man who would have harmed her?
You All Grow Up and Leave Me
is an unusual book, thought-provoking and memorable, a fascinating look at the after-effects of psychological manipulation.