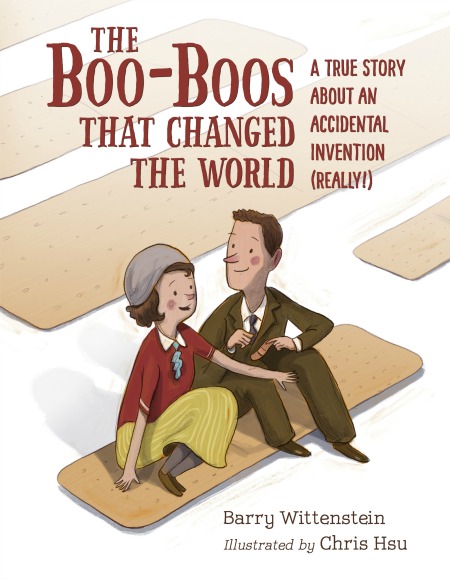 Ouch! When your child falls and scrapes her knee, you probably do what most of us do– reach for the band-aids. Little kids so often adore bedecking themselves with bandages, since their apparent magical powers heal little bumps and boo-boos almost immediately. I know when I was a preschool teacher, I had to create a rule so our classroom wouldn't run out of them too quickly– "We use band-aids when we're bleeding." But here's a question, have you ever really thought about how or when they were invented?
The Boo-Boos That Changed The World: A True Story About An Accidental Invention (Really!), written by Barry Wittenstein and illustrated by Chris Hsu, presents the kinda adorable story behind the creation of those Johnson & Johnson products whose name has become a generic word for the product itself. If it weren't for a loving husband who wanted to find a remedy for his accident-prone wife, perhaps the world would have had to wait much longer than the 1920s for this type of invention!
Considering the way in which we take adhesive bandages for granted today, it might be hard to believe this, but apparently, they were not a big hit right away. In fact, even after the company figured out a way to mechanically mass-produce them, sales were still low. It wasn't until the company had some pretty ingenious thinkers who came up with the idea to give them away. Yes! But the secret to their success can likely be figured out when you discover to whom they gave the bandages… we all know that when you get a bunch of little kids together doing adventurous things like woodworking, hiking, fishing, archery and lots of other outdoorsy activities, you get a lot of bumps, bruises, and scrapes. And the moms of those little boys might have gotten tired of scouting out ways to patch them up. (Wink, wink!)
All told, the story behind the invention of Johnson & Johnson's Band-Aids is pretty interesting, and Wittenstein has a clever way of telling that story. Now, one thing that I find worth mentioning is the pretty strict gender roles in the story, which my 11-year-old daughter quickly pointed out, though she found the book to be fairly engaging. We had a conversation along with her younger brother about what the expectations and limitations were at the time for people of different genders, and how the adventurous boys and creative men were filling those expectations. Within the context of history, this made sense to her, while also reaffirming her belief in equal opportunities for people of all genders today!