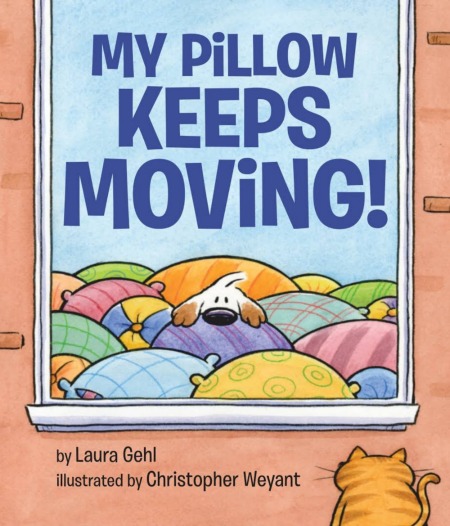 A man in need of a pillow and a dog in need of a home make for the silly beginning of an incredibly charming picture book that is full of laughs and heart. Laura Gehl's My Pillow Keeps Moving! brings these two together accompanied by Geisel Award-winning Christopher Weyant's illustrations, brimming with visual winks and nods that sharp-eyed young readers will excitedly point out.
The Pillow Place's shop windows display large signs advertising guaranteed soft and fluffy pillows at bargain prices. A dog and cat sit shivering on the sidewalk outside, but the clever dog seems to get an idea. A page later, the dog has somehow convinced a shopper that his curled up figure is indeed a pillow. His cat companion watches as the dog gets carted home, a look of surprise and longing on its feline face. Once at home, however, this pillow doesn't act in a way one would expect from a pillow, so the man attempts to return it. A slick-haired employee with an outrageously colorful suit serves him, but the dog doesn't give up quite yet.
Repeat this pattern over the course of a few other specialty shops, with the reappearance of all characters, including that salesperson who is apparently very well employed across town, and you have the setup for many jokes within the illustrations and the storyline that appeal to children's love of humor. As an adult, I found myself giggling at the smoothness of the employee and the industriousness of the adorable pup. At the heart of this book is the connection between the man and the dog, two creatures who needed each other, even if it took a little while to figure out.
Oh, and don't you worry about that lonely cat on the outside looking in… Gehl and Weyant don't forget him!