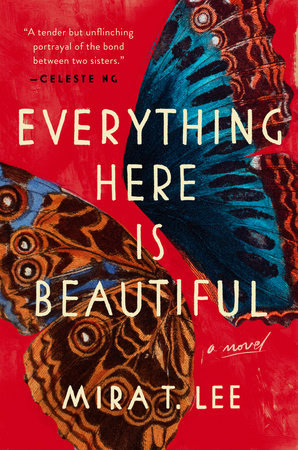 Everything Here is Beautiful is a gorgeously-written novel that deals with important issues: immigrant life, family ties that remain strong through great distance, the seamless melding of cultures that can be possible, and perhaps most importantly, mental illness and the ripple effects it has on family members and loved ones.
Miranda and Lucia are sisters; Miranda the oldest, responsible and steady, and Lucia impetuous, creative, and friend to everyone she meets. Miranda came to America from China as a child with her pregnant mother, told always that her father had died in a car accident. Lucia is a charmed child–tiny and beautiful, imaginative. After their hard-working, driven mother eventually succumbs to cancer, the two are left to put together what remains of their family.
Lucia has fallen for a divorced Russian-Jewish man with one arm who runs a health-food store in New York. Miranda is a bit mystified by the relationship, but she watches as Lucia inserts herself into a controlled chaos of extended family and friends sleeping on the couch and helping run the business. Lucia gets to know everyone in the neighborhood. But then, next thing Miranda knows, Lucia has run away and is living with an Ecuadorian immigrant, here illegally and living in an overcrowded house, working to send money home to care for his handicapped younger brother.
When Lucia was in college, she began to hear voices. She is someone who always lives larger than life, on top of the world, and the description of her time in and out of psych wards is told with compassion and accuracy. She describes it as two serpents who live on her shoulders and talk to her, tell her things, and explains many of her actions as ways to placate them and protect those she loves.
The story moves back and forth. Miranda is the main narrator; she's trustworthy but stressed. We also read things from the point of view of Lucia herself, and Manny, the Ecuadorian who loves her and most of all, loves their daughter.
One of the things I loved about this story was how many countries were represented. Miranda and Lucia are Chinese-American. Miranda marries a Swiss man and lives a complete, insular life there with his proper family; Lucia ends up living on a farm in the Ecuadorean countryside, inserted into a family life there that's been complete for centuries although it is now cracking with the strain of modernity. Lucia's first marriage is to a Russian-Jewish man, whose first wife is in Israel and whose relatives come from there to stay on the couch. During one of her hospital stays she befriends a young Libyan woman. The world is in many ways seamless, and America is bursting with new lives and new cultures, creating a beautiful mosaic of influences, tastes, sounds and smells.
I also appreciated the clear-eyed look at mental illness, sympathetic but not sentimental. We are taken into Lucia's head and thought processes, so that we see how she could make such strange choices, while at the same time we are out of her head and can see these choices plainly for how destructive and mystifying they really are. It's masterfully done.
Although sometimes this book isn't easy to read, it's the kind of book that's worth it. Mira Lee is a fantastic writer and she tackles hard subjects with gentleness and even love. I highly recommend it.