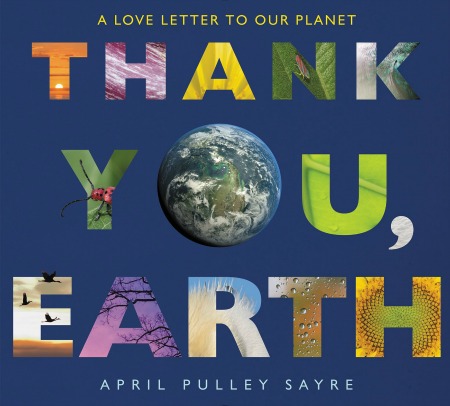 Award-winning photographer and acclaimed author April Pulley Sayre has created a picture book that truly is for children (and adults) of all ages in her newest offering, Thank You, Earth. The title is absolutely fitting, as the book reads as a straightforward thank you note to our planet for all that she offers.
This gratitude is expressed toward a wide variety of aspects of life on Earth. As one might expect, flora and fauna of all types are mentioned, as well as beautiful phenomena such as sunsets and storms. But you might be surprised by the specificity of some of the other thank yous offered, such as "mountains and minerals", "colors and coastlines", and "tiny and towering", for just a few examples.
The lyrical text is vivid and descriptive, and sometimes alliterative as in the quotes above. This is matched perfectly by Sayre's stunning photographs that capture moments in nature from afar and up close, and showing creatures in candid moments that portray the beauty and wonder that they offer our world. Colors and textures are described and highlighted, along with sounds and sights, making this a sensory celebration of our amazing planet.
I wouldn't hesitate to read this book with children from toddler age through elementary schoolers because it is accessible at several levels for children as they grow. For the oldest children, the endnotes offer encouragement to get involved in caring for the Earth with examples of real projects currently being spearheaded by children to reduce the usage of plastic straws and to eliminate the practice of littering the sky with balloon releases, for example. Suggestions for ways to take action are included along with contact information for environmental resources and organizations.
I absolutely love this picture book and think it is the perfect book to introduce to young children in schools and homes on Earth Day this spring and then re-visited regularly to encourage appreciation for nature and stewardship for our planet.