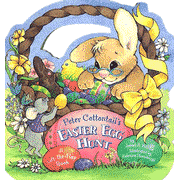 This Easter season is just slipping away from me! I've been thinking that I really wanted to plan some fun activities for us to do every day to prepare us for the upcoming holiday and it's like I've blinked and the holiday is gone! Gone, but not yet. I still have a few more days to pack in some fun things and two of the books we've included in our Easter celebration are the the following:
Peter Cottontails Easter Egg Hunt
is a lift-the-flap board book. I've tried to keep this book hidden but somehow it found its way into Bookworm1's hands and so we cuddle up and went hunting! Peter is hunting for all kinds of goodies in this book – chocolate bunnies, colored eggs, shapes, colors, flowers, and even the noises that particular animals make. This book reads like a story but offers the youngster plenty of good fun and activities. Can they count the objects that they find? Make the sounds that are under the flaps ("ri-bbit! ri-bbit!")? Find their Easter treats? We enjoyed browsing this book slowly and discovering all that it held for us to find as we went along. This book was definitely a winner!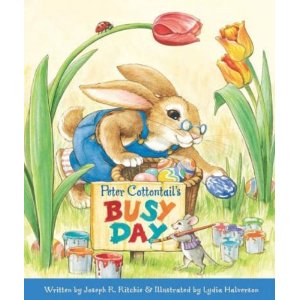 Another book we thought was super cute was Peter Cottontail's Busy Day
. In this book, Peter accidentally sleeps through his alarm clock. He awakes with a start, realizing he needs to get up and encourage the farm animals to prepare the Easter treats for the children to find. Hens are painting eggs, jellybeans are being harvested from the mines and there is a lot of work, work, work going on! (It's kind of reminiscent of Santa's toyshop, where all the elves are bustling about creating treasures for children to find on Christmas morning. Only, in this case, we're talking animals and chocolate which I rather like myself!)
Both of these books are provided by Ideals Books and we're happy to enjoy them this Easter season. If you find them, snatch them up! I'm thinking that we're going to do a mid-week egg hunt this year for the fun of it! I like the idea of spreading out our Easter activities over the course of the week and these two books are helping me to plan and do that. As much as I am planning. Which isn't much, I confess, but I'm trying!
What are you doing to celebrate the Easter season with your kids? Are there special or particular books that you utilize and pull out every year? I really would love to know about them! My kids are both small and so we're just starting to create our own family traditions. I'm all bunny ears for any thoughts or ideas you might have!
Carrie comes by her book obsession honestly, having descended from a long line of bibliophiles. She blogs about books regularly at Reading to Know and Reading My Library.