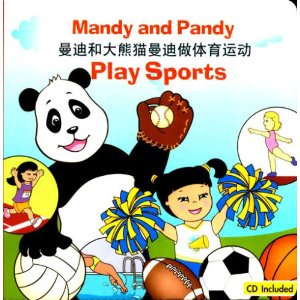 Kyle's Kindergarten teacher is fluent in three languages (English, Spanish,and Portuguese). Before teaching in his school, she taught English as a second language. Because of her interests and gifts, she incorporates a lot of fun and educational language activities. Kyle has learned many songs in other languages, including Jingle Bells in all three of the languages she knows. Each week the class learns to say "Good morning" in a different language. As a result of these fun activities, Kyle has taken an interest in foreign languages that I want to encourage as much as I can.
Mandy and Pandy Play Sports is a fun book I've found to expose Kyle to yet another language.
Read my full review of this book and CD at 5 Minutes for Mom, and enter to win your own copy as well (U.S. residents only).
Comments are closed here to remind you to click through to the full review and giveaway at 5 Minutes for Mom.
Jennifer Donovan loves languages too. She retained much of her vocabulary after taking many years of Spanish in high school and college, but like everything else, she's losing it. She tries to record her memories at her blog Snapshot.