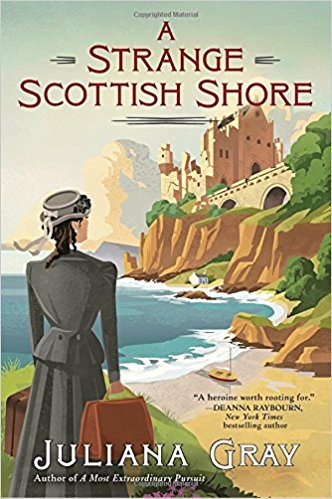 A Strange Scottish Shore picks up right where the first book in this series, A Most Extraordinary Pursuit (linked to my review), left off. The year is 1906. Emmaline Truelove believes herself to be prim and proper, and certainly strives to present herself that way, but underneath her buttoned-up exterior beats the heart of a passionate adventurer. In the first book, she's thrown together with the irrepressible Lord Silverton, London's most famous rake, handsome and dissolute. He is drawn to her, and her courage, but the first book ends with her rejecting him.
This book opens with the 2 of them traveling together to Edinburgh. Truelove has in her possession a leather portfolio containing notes she and Max–the present Duke of Olympia–have been gathering on the topic of time travel. She's no longer his private secretary but instead heads up the Institute he has founded, which is looking into true anachronisms, and the possibility of moving between times and leaving objects where they shouldn't exist. In the first book, Max somehow yanked Theseus from millennia in the past to the early 20th century, and was threatened by a ginger haired man who seemed to be very modern American. Something is obviously going on, and Max seems to have an unrecognized and mysterious power to move people about in time.
When Silverton disappears shortly after the ginger-haired man is seen again, Max and Truelove gradually come to realize that he's been sent back in time. They are exploring a ruined castle in the Orkney Islands of Northern Scotland, when they find an ancient chest with a hidden compartment, in which resides a strange rubber suit and a piece of paper drawn by Truelove herself. Convinced that this is a clue as to when Silverton is, Truelove is determined to follow, believing she can bring him back and convinced that her desire to do so is simply altruistic. But when she arrives back in 1386 or thereabouts, to find that Silverton has been there 3 years already, she quickly realizes that her plan may not go as she'd hoped.
The current laird of the castle shares the family legend. They believe that their wealth came from their ancestor, a fisherman who was visited by a selkie (a seal who can turn into a woman) who gave him a great pearl which he sold and from which came wealth and nobility for generations. Interspersed at the beginning of each chapter is a scene from an ancient tale, about a Lady and a Fisherman who believes she is a selkie, and it doesn't take long to figure out that the tale is being played out before the back-in-time Silverton and Truelove's very eyes. Will the selkie return to her grieving husband and 2 children? Will Truelove and Silverton return to their own time? I'm not telling.
I want to stress to you all how much I enjoyed this book. It's the perfect antidote to, well for example the news, or life in general. It's entertaining, you care about the characters, and the dialogue is fast-paced and often witty. Plus, I love the relationship between Silverton and Truelove. It's got sentimentality, for the warm part of me, but has lots of snap and pertness, for the larger cynical part. I love watching how stories can be turned to legends, and it's fun trying to puzzle out mysteries such as who Truelove's birth father might be (I have a theory), or why she sees an apparition of the late Queen Victoria, who scolds her. It's such a good book! My only sorrow is that I'm dying to find out what happens next, and I'm going to have to wait ages!