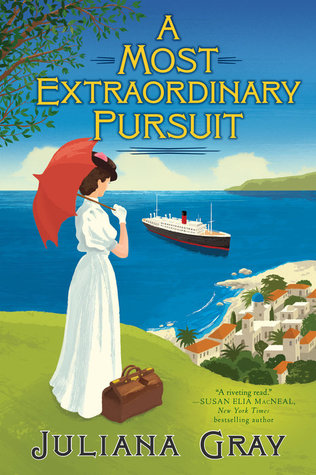 The year is 1906, and Miss Emmaline Truelove in some ways embodied the values of the time, while disregarding them in others. However, she likes to think of herself as entirely a typical lady, while actually being very stubborn and adventurous. She's the private secretary to the Duke of Olympia, which is in itself somewhat unusual, but she's following in her father's footsteps and the Duke's loyalty has not exceeded his sentimentality–Emmaline is good at her job. The Duke's sudden unexpected death has left her in genuine mourning, but the Duke's wife sends her to Greece to find Maximilian Haywood, the Duke's heir. Protests are to no avail. She finds herself on the high seas, feeling terribly nauseated and in the company of the handsome, irrepressible Lord Silverton, whom she attempts to thoroughly squash (I am using this expression the way in was used in British books of the 50s, where it meant to get someone to calm down and not respond to their jokes or high spirits, for those of you who didn't misspend your childhood reading your mother's old books).
Emmaline loves things done properly and comfort, but she's to find scant evidence of either on this journey. Whether it's suspecting that Lord Silverton has  spent the night (!!) with the lovely young waitress, finding herself actually sharing a room with him for safety, walking all night in an attempt to find a certain cave, or being shot at, she's in for an adventure. Most importantly, she needs to know whom she can trust, and she seems determined to choose the wrong people. Appearances by Queen Victoria and her father, both deceased, who sit in her room and converse with her, add a twist of magic realism to the proceedings, although it's never explained if Emmaline's seeing ghosts, having hallucinations, using them as a cover to allow her true self the space to express itself, or what.
The issue seems to be time travel. She has prints of a mural supposedly dating back millennia, yet showing what appears to be a camera, a most modern invention. Max has apparently met with foul play, and they must travel onwards to Crete in search of him. Meanwhile, the myth of the Minotaur and the Labyrinth is playing out in mysterious ways before them.
A Most Extraordinary Pursuit is the start of a series, and I think it could go some really fun places. I like the idea of presenting all of time at once in a story. I must admit I was worried when I started it. I was afraid it was going to be coyly anachronistic, featuring a heroine with modern sensibilities, with a rather dull and predictable romance. I was afraid of quirky Characters-with-a-capital-C, and smugness. But I needn't have been. Instead, it was a really fun read, with yes, a bit of anachronism but openly acknowledged, and characters who may have been a bit quirky but were still well-done that rang true. I thoroughly enjoyed it, and I'm looking forward very much to second one, just out, which I'll review here next week. Stay tuned, as they used to say in the olden days!