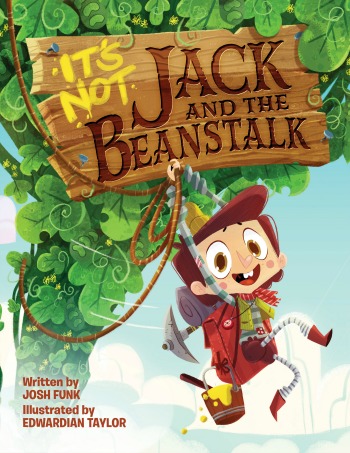 The fairy tale involving a handful of magic beans, a plucky young boy, some golden treasures, and an angry giant is pretty well-known among children and adults alike. But what happens when the characters rebel against a stubborn narrator intent on staying faithful to the classic tale? The result plays out in the new picture book It's Not Jack and the Beanstalk written by Josh Funk and illustrated Edwardian Taylor.
Printed in a fancy font worthy of any fairy tale, the story starts off just as one would expect with Jack preparing to sell his cow that had stopped giving milk. Right off the bat, Jack is absolutely not happy, but the narrator tells him that's how the story goes. Upon receiving five magic beans in exchange for his cow, Jack tries unsuccessfully to figure out how to work their magic, but the narrator gets him back on track by insisting that Jack throw them out the window. This pattern continues as the tale progresses, with Jack questioning each turn of events and the narrator pushing him to just go along with it. Jack's humorous protests will surely elicit some giggles, and the narrator's increasing frustration level makes for a rowdy read-aloud! When the giant (whose name is actually Fred, he'd like you to know!) comes along, the story completely veers off course, much to the narrator's chagrin, even though in the end, they do indeed all live happily ever after.
Note to the grown-ups who will be reading this one aloud, get ready to use a couple of different voices to represent the narrator as he is telling the story and the narrator's asides directed at Jack, along with Jack and, of course, the giant. The distinctions in fonts and speech bubble colors are good visual indicators of the breaks in the traditional story for young independent readers.
There is much fun to be had with this book as a read aloud, making it a delightful addition to both home and classroom libraries.