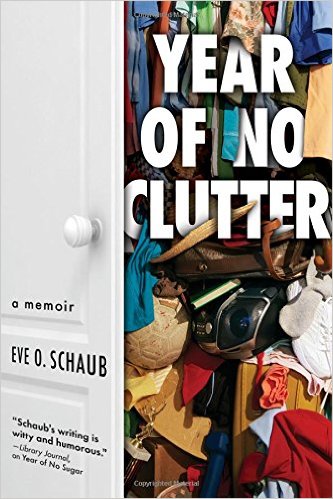 I read Eve Shaub's book Year of No Sugar when it came out. I liked her honesty and humor and read it during a time I was attempting to eat a healthier diet. When I saw she had written a new book about clutter busting, I couldn't resist. I struggle with clutter always appreciate motivating texts. I was most hopeful about hearing about new habits leading to life-long change in this area.
Her new book — A Year of No Clutter is mis-named, and I totally understand why. It is meant to mirror her first memoir, and the title immediately revealed to me that it was by the author whose other memoir I had enjoyed. That said, it was misleading.
I expected some sort of drastic overhaul. What would my house be like with no tolerance for piles of mail or school papers or discarded costumes or old magazines and books that are never-to-be-read again? How long would it take for new habits to overtake the bad ones? That's not exactly what Schaub tried to undertake. Instead, she looked to clear out her "hell room," an entire room that had been overtaken by clutter. She reasoned that she wasn't a hoarder, because most of her house was generally presentable, but what did it say about her that an entire room — a room that could be used for something else — was full of stuff? Schaub confesses to her problem with keeping things, things like boxes and boxes of her children's old clothes, items from her own past, and things that seem too good to throw away, but which have no place in her life right now.
So — she gives herself a year to clear out that room. During that year, there are some hurdles, including those that will be familiar to many of us. Her father moves, presenting her with even more things that she is tempted to save for posterity, and her mother downsizes as well.
Schaub approaches this topic with humor and honesty, just like her former book. I'd call it more of a memoir of her personal exploration of this issue in her own life than an inspiring how-to, but I definitely enjoyed it.
I should have included this book in my Books that Feed our Fascination post about Hoarding. You can click over to read more of my recommendations in middle-grade fiction, adult fiction, and memoir.