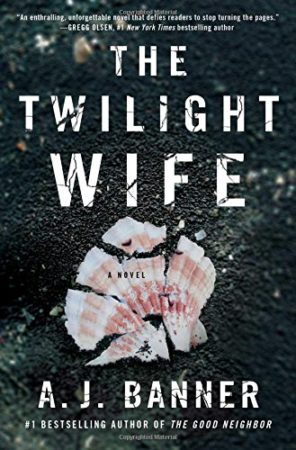 Kyra Winthrop remembers nothing of the last 4 years of her life after hitting her head during a diving accident. She's come to Mystic Island with her husband, Jacob, to get away from Seattle and hopefully recover her lost memories.
As Kyra explores the island and meets locals who knew her when they visited the previous summer, bits and pieces come back to her and they don't all add up. Jacob is very patient with her, answering questions again that she doesn't remember asking only a few days earlier, but she can't help but feel that he's hiding something from her. She begins having memories of being with Jacob's friend, Aidan, and isn't sure what they mean — was she having an affair with Aidan? Jacob reassures her that their relationship was not in trouble, but she isn't sure what to believe.
The Twilight Wife is a page turner and I enjoyed listening to the story unfold. As someone commented when I included this in my Nightstand post, amnesia books are unusual because the reader is finding things out at the same time as the character who is telling the story, especially if it's in first person, and that adds to the intrigue.
Kyra's background as a marine biologist adds to the story as well, as she reveals tidbits about marine life and the Pacific Northwest.
Notes on the audiobook: The Twilight Wife is read by Cassandra Campbell, who is well known in the audiobook world. She has a pleasant voice and keeps my attention, which is really all I ask for in a narrator.