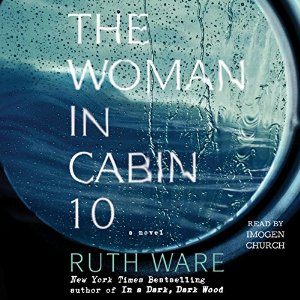 Lo Blacklock finally has the break she's been waiting for in her career as a travel journalist — she's set to sail on the maiden voyage of The Aurora Borealis, a luxury cruise ship that will sail to the North Sea. But Lo is on edge after her apartment is broken into and she has a fight with her boyfriend right before she leaves for the cruise. When she wakes during her first night at sea to a scream and then a splash from the cabin next door, she thinks she's witnessed a murder.
But no one is missing from the ship and no one else heard these noises, so Lo can't get anyone to believe her. She doesn't know who she can trust and becomes increasingly paranoid as possible evidence disappears from her cabin and she receives a warning to stop digging.
News reports and blog posts are intertwined with Lo's narration, which add an interesting twist to the story as they give the reader an idea of what's going to happen to Lo, but how it all pans out is yet to be told. Lo's not a very reliable narrator and she's not very likable either as she's constantly digging herself into a hole she can't get out of. She's also not very good at her job, which fortunately she also realizes.
The cruise ship-at-sea setting of The Woman in Cabin 10 gives it a tension it might not otherwise have, and the pacing is a bit uneven at times. But the identity of the woman in cabin 10 is a well-hidden surprise, if the person behind the events that occur is not.
If you enjoyed similar thrillers with less than likable main female characters such as The Girl on the Train or Luckiest Girl Alive, then check out The Woman in Cabin 10.
Notes on the audiobook: The Woman in Cabin 10 is read by Imogen Church and she does a great job with the tone and pacing of the novel. Click over to the Simon & Schuster website to hear an excerpt.