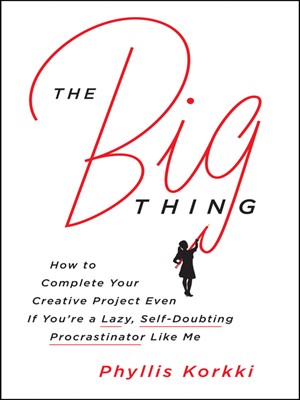 Phyllis Korkki had wanted to write a book since she was 11. But it wasn't until she wrote an article on deadlines as part of her job at the New York Times that she decided to power through and actually do it. Something about realizing that when she had a deadline she produced results made her revisit her book idea, as she wondered how could she, and others, approach other things with the same sense of urgency? The result is a book that looks at the creative process from all angles, and offers practical help to those of us who, like her, are lazy, self-doubting procrastinators.
Korkki recognizes that your Big Project may not be the Great American Novel. (Mine is) (Actually it's a memoir. I finished 4 chapters several years ago and have done nothing on it since.) She broke down what's needed to complete a large project that will last several months into several areas where motivation will help.
She begins by looking at what she terms "the value of the long arc"; in other words, at the importance of creating large projects in order to face our limitations and realize our potential. "The problem of our time is that we are lured into these small, self-glorified, acceptance-seeking creations at the expense of deeper experiences," she says (p 4), thereby damning all of us who are addicted to Facebook and Twitter. I'm kidding of course, since she's very supportive no matter where you're at, but she is addressing the short attention spans of our time.
Korkki looks at logical ways to complete the Big Project, such as breaking down the task into manageable segments, committing herself to writing every morning at her desk. But she also goes beyond that. She looks at the physical: how posture and breathing affect our abilities to do certain tasks for long periods of time; how nutrition plays an important role in our ability to concentrate. She tries writing in her bed, only to find she needs to move back to her desk. In every area, she seeks out experts both current and historical, fleshing out her ideas with facts.
Chapters include:
The Big Thing and your Day Job (this is the big question always, isn't it?)
The Intensity of Illness (From Frida Kahlo's gorgeous art depicting her illness to Cat Marnell who's working on a memoir about addiction, illness both physical and mental can affect our creativity in different ways)
Love and Work (looks at marriages of creative people as well as how lessons learned in pursuing the Big Thing can be applied to your love life)
In Bed with the Big Thing (this is the one where she tries writing in bed, and looks at how Proust managed it. Hint: you need a full-time maid)
and many more!
The Big Thing is a fun, practical and well researched look at the ways we can benefit by completing our Big Project, whether that be a journey, a novel, a painting, or whatever creative outlet our soul desires. I'm feeling all inspired to brush off those 4 chapters and get to work on another one. I don't know if I'll ever finish my Big Project, but Korkki has given me a plethora of reasons to lose my excuses.