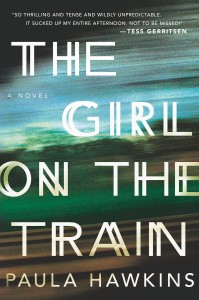 This new novel by Paula Hawkins is being touted as the next can't-miss suspenseful read (a la Gone Girl). When a book is compared to something else, it does pique my curiosity, but it also sets pretty high expectations, which can be dangerous or even misleading.
I enjoyed The Girl on the Train, but I do think that it suffered from that comparison somewhat. Whereas Gone Girl is a fast-paced psychological mystery full of twists and turns, this novel felt like more of a dramatic character study in many ways. Not only a character drama, but a bit of a sad character study.
Rachel is the girl on the train. She rides the same train at about the same time into London each morning and evening. There's an area along the track where the train usually slows and stops, and Rachel takes that time to stare at the homes that are right along the track, glimpsing the life that she wishes she has. She fills in the gaps in the lives of Jess and Jason who she sees in their backyard.
We learn more about Rachel in her chapters, and she's in a pretty sad state at this point in her life. We find out why, but I didn't really connect with her personally. I didn't understand her choices, but I didn't feel judgment towards her, nor did I feel much compassion.
Alternating chapters are told from Jess' point of view, and of course their stories end up intersecting.
There are plenty of twists and turns in the murder investigation that involves both Jess and Rachel. Whereas the first part of the book was character-driven, the last 1/3 of the book did definitely keep me turning pages with a faster pace and more action. They also had me questioning each character's role in the murder right up to the suspenseful and surprising conclusion.