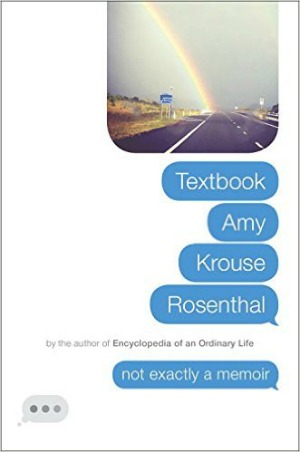 Amy Krouse Rosenthal is a creator. There's no simpler way to describe her, I believe, based on her work as an author, storyteller, organizer of creative experiences, and "tiny filmmaker" (her words– you decide on the meaning, since she is both petite and also makes short films). Textbook Amy Krouse Rosenthal is one of her latest creative endeavors, a collection that is memoir-ish, and includes her musings on life, love, and other universal, everyday experiences.
First off, I feel completely inadequate in offering a standard review of this book, because there's nothing standard about it. It's clever beyond anything I've read before, but clever in a gentle way, not for the sake of impressing the reader with its cleverness, but with the intent of sharing and inviting readers to do the same. See, the word 'textbook' in the title is multilayered, and anyone familiar with AKR's work knows she loves a good word play. The book itself follows a somewhat traditional textbook format; there are sections that mirror school subjects- Geography, Art, History, Math, and so on. Graphs and charts are sprinkled about among the text. As a follow-up of sorts to her previous Encyclopedia of an Ordinary Life, a textbook format only seemed logical.
But, think of another meaning of the word 'textbook,' and you'll see that it can also be applied in this title to mean something that is exactly what you'd expect from someone. Perfect.
Additionally, the book encourages reader participation by incorporating an actual texting component to the reading experience. Certain passages end with an opportunity to text a particular number for an additional related piece, be it a short story to read, a video to watch, an audio link for your listening pleasure, or an invitation to share your own photo or thought. Other projects will branch off from this book and the contributions of its readers, including the gathering of readers' good luck messages to be placed into a bottle on January 1st and sent out to sea. Reader submissions of self-portraits, photos of rainbows, and moments of serendipity, among others, are available at the book's website, where the content continues to change and grow.
Seriously, this isn't a book that you just read. You experience this book, reading AKR's thoughts encouraging you to explore your own, and being given the opportunity to connect with other readers all over the world. The book came out earlier this month, and to celebrate its launch, AKR invited people to meet her at her favorite place in Chicago, "The Bean" statue. Just looking at the photos made me smile, even as I was a bit heartbroken that I couldn't be there in person.
I encourage you to read this book and to share this book, partake in as many of the interactive components as you like, and be inevitably changed, even just a little, for the experience.