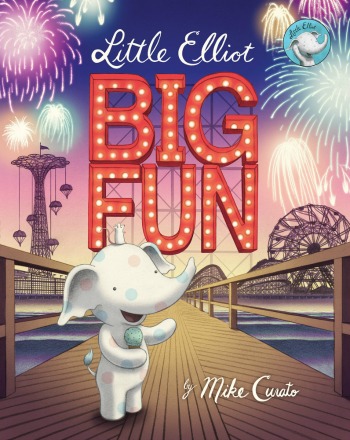 Mike Curato's adorable polka dotted elephant and tiny mouse pal are back for a third time in Little Elliot, Big Fun. Their delightful friendship continues to shine in this book, as does the 1930s New York City setting. With a trip to an amusement park, Mouse proves his worth as a best friend once again when he tries to help Elliot find the activities he enjoys.
At the "far edge of the big city," Elliot and Mouse exit the train, headed for Coney Island, of course. Though the location is never explicitly stated, Curato does everything possible short of naming it to make its identity apparent. In the illustrations, the D train sign is evident, and the pencil and digital drawings depict classic rides and scenery of the beloved park. (In fact, I had a lot of fun searching old images online that showed the exact rides and backgrounds featured in the illustrations!)
Once there, Mouse tours around his friend, as he's quite familiar with the place. Suggesting ride after ride, Elliot finds that water chutes, roller coasters, and the like are not quite his favorites. Even his ice cream treat gets carried off by a giant seagull, and his fearful reaction to a clown offering a balloon is one that some parents might recognize from experiences with their own children. When Elliot runs away out of fright, he finds himself in even more trouble, as the fun house and loud game corridor scare him as well.
But Mouse, being a good friend, finds him on the beach, and he knows just how to make his friend happy, if Elliot will trust him for one more ride suggestion. The gorgeous view from this particular carnival favorite is so expansive it deserves a fold-out four-page spread. Now that Elliot is feeling more comfortable, he and Mouse spend the rest of the day enjoying the park, completing their time with a fireworks display lighting up the sky. Their friendship is a lovely thing.
Curato's illustrations bring time and place to life, complete with end pages filled with carnivalesque posters for sideshows such as "The Invisible Man", "The Human Cannonball", and "World's Largest Cupcake", a tribute to Curato's self-professed love of cupcakes, which also feature prominently in Elliot and Mouse's first adventure- Little Elliot, Big City.