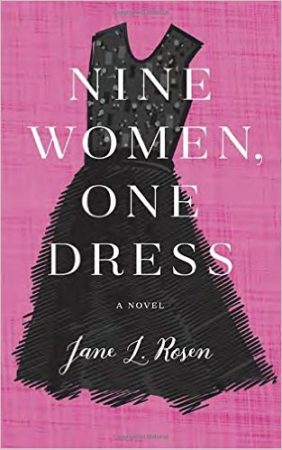 This novel was not at all what I thought it would be, and I loved it! When I read the idea of a novel featuring one dress that nine different women wore, I really thought it would be nine short stories, or interconnected stories, but in reality it was so much more.
Many of the women were connected, and some stood alone, but it read as a complete work for me, perhaps rooted by the magic of New York City. It reminded me a lot of Let the Great World Spin, although Nine Women, One Dress is a much lighter read than the literary novel by Colum McCann.
Some characters are just given a chapter or so, and I suppose some might find that they clutter up the narrative, but I loved the peek into the lives of Muslim Parisian teens who generally have to be covered by a Burqa but enjoy trying on the outfits found in a recovered suitcase — including THE dress. The book begins and ends with Morris Siegel, the designer of THE dress of the season, who is on the cusp of retirement (with a nod to the model who makes the dress go viral).
The characters who keep the thread running throughout are the sales associates at Bloomingdale's: Ruthie, Tomas, and Natalie. When actor Jeremy Madison faces media "accusation" that he's gay, his agent and his publicist go crazy. Since Jeremy and his girlfriend have broken up, they insist that he find a suitable replacement date quickly for his premiere that night. He ends up with Natalie, the sweet and beautiful sales associate who borrows the dress, with the idea of making her ex-boyfriend jealous when she's photographed with the actor. The normalcy of who she is causes him to fall for her, but she has put him firmly in the friend zone.
Another woman who I think you'll pull for is Felicia. She's been in love with her boss for 17 years without acting on it out of respect for him and his wife. Ruthie, the sales associate at Bloomie's, has known that boss Arthur Winters for about that long. She has helped him find the perfect gift for his wife, and also an appropriate gift for his assistant for all those years. When he comes in with a much younger woman, Ruthie finds out that his wife passed away. Due to a mix up — or perhaps interference — Felicia is given a chance to let him know her true feelings.
The final woman with a fully developed story — though the one least tied to the dress — is Andie, a single mom trying to support herself as a private eye. It's not always the most scrupulous of jobs, but she tries to stay honest, something that is difficult when she finds herself falling for a client's husband.
If you like short stories or light women's fiction or an interesting narrative, I highly recommend this one.