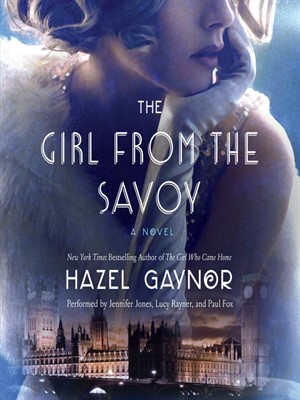 Dorothy Lane is on her way to her new job as a maid at the exclusive Savoy Hotel when she literally runs into composer Peregrine (Perry) Clements. It's pouring rain and sheets of his latest song waft into the air. She picks him up and apologizes and they part ways, but not before Clements pushes his music sheets into the trash bin. Dorothy rescues them and takes them along to her new job, where she is scolded for being unpunctual and untidy, and told she will never amount to anything.
Dolly, as she's known, is out to prove them wrong. It's London in 1923, a time when social mores are changing and classes are mingling in new ways, a time when anyone with talent and looks can become a chorus girl and from there move up to be a leading lady. The lights of the London stage are dazzling, and many girls dream of becoming the new darling of the West End or seeing their name in lights on Broadway. Dolly is no different. A farmer's daughter from Lancashire, she has already suffered a terrible heartbreak, as her best friend and fiance Teddy Cooper left for war planning to return and marry her, but didn't return whole. The two of them were close as children, and he always encouraged her to dream big and seek adventures. Life has beaten her down, but Dolly is determined to rise.
Meanwhile, current stage darling Loretta May is dealing with her own problems. The daughter of an earl who ran off to go on stage and later worked as a V.A.D. nurse during the war, she is used to forging her own way. Now, awaiting the arrival of her brother Perry for their weekly tea at Claridge's, she muses on how worried she is about him, and reflects on her own failing health. She wonders if she couldn't find him a muse, someone that would inspire him to work on his music again. She talks to him about it, and he ends up taking out an ad in a newspaper, which is answered by Dolly.
Writer Hazel Gaynor sets up two sets of contrasting people, all of whom have been irreducibly affected by the horrors of the Great War. There's brother-sister duo Loretta and Perry. Loretta has loved and lost. Perry has too, but in a different way, and he's scarred and burdened by his experiences fighting in the trenches, and unable to move on to the glittering present. Then there's Dolly and Teddy Cooper. Parts of the story are told from Teddy's point of view, and set in 1919. He is suffering from shell shock and can't remember anything. A pretty young nurse comes to read him the letters that Dolly wrote him, but he is barely aware of her, his gaze always focused beyond the window. Dolly carries a lot of guilt about him. The story follows all four, although Dolly is the primary character. Can they leave the past where it belongs, and find the hope needed to move into their futures?
The Girl from the Savoy offers a fascinating look at a city and culture in the midst of a major transition. As London sheds its post-war gloom and focuses on laughter and gaiety, its people strive to cast off their own memories of horror, with varying degrees of success. I loved the description of the gallery girls, the lower class women who would scrimp and save to buy tickets to their favorite shows, and who acted a lot like crazed Beatles fans in the 60s. The novel looks at class issues, as an unlikely friendship develops between Loretta, daughter of an earl, and Dolly, maid at the Savoy and ordered to be invisible to the posh customers out front. It was, however, a time when classes could be traversed in ways that hadn't been possible before, and Dolly is determined to be one who manages to do it, leaving behind her memories of Teddy and the sorrows of her past. She's got grit and drive enough, but she'll need more than that to succeed.