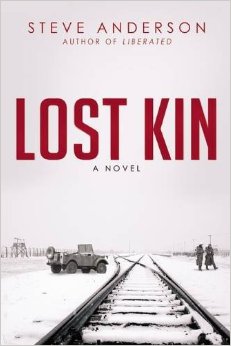 Occupied Munich, in 1946, is a place of desperate people. Harry Kasper lives in a small mansion and wears handmade horn-rims and a velvet smoking jacket found in the deserted house, but he prides himself on still being one of the good guys, not taking full advantage of the wrecked souls and situations that surround him. In fact, his dirty little secret is that he managed to capture a train-load of goods plundered from Jews and return it to them, although in doing so he had to kill a corrupt US officer with a pocket knife. Now he sort of meanders through life–that is until one day a plainclothes German policeman comes to him with a story of a dead man and a woman who claims to know his brother. Harry and his brother Max were both born in Germany, and their parents emigrated when Harry was young enough to go to an American high school. Max was older, tried to make it as an actor in New York, and then opted to go back to Hitler's Germany. Harry and his parents have had no news in years, and Harry is all too aware of how Max's mere existence could threaten his own. Plus, he has no idea how Max has been spending the war. But he loved his brother.
Harry brings the woman, Irina, back to his villa, but she runs away. Harry hunts for her, eventually finding both her and Max. Irina is Cossack, part of a group of displaced people who are hiding in deep forest just over the border with Czechoslovakia. Their lives are at risk and no one wants them; they fought on the side of the Germans during the war in order to survive, but they are tainted by the West in Stalin's eyes, and face immediate death or a trip to a gulag. Legally, however, due to deals that have been drawn up by Allies who are rapidly devolving into foes, the small rag-tag band of hungry women, children, and a few men and horses "belong" to the Soviet Union.
Harry and Max circle each other like wary dogs. Harry doesn't know how much he can trust his long-lost brother, and Max isn't in the mood to bare his chest of all his wartime actions. Other people are drawn in; the plainclothes policeman, Helmet Dietz, who seems to want to help but whose own wartime past is a little shady, and Sabine Lieser, an attractive German blonde who is in charge of a camp for displaced people. Harry and Max track a train of refugees being returned against their will across the border, and record the atrocities committed.
Lost Kin explores a shadowy world just after a world war, where an uneasy peace prevails and allies are becoming enemies. It illuminates a little-known aspect of history, and brings to life a city devastated by war, filled with people just trying to survive and occupiers seeing their chance to profit. While the title clearly refers to the long-lost brothers, in a broader way it reflects humanity facing its own capacity for brutality, and the way some reflect on that and own it, and others continue on that path to more bloodshed.