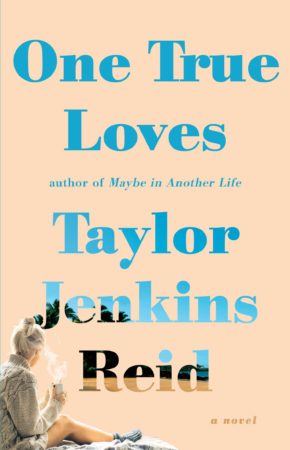 Emma fell in love with Jesse the first time she saw him in 9th grade. As they grow up together, they both long to escape their small hometown in Massachusetts to live a life of adventure. Emma's parents want her to run their bookstore–she doesn't even like reading. Jesse's parents push him to train nonstop for swim competitions, and he's not comfortable telling them that he isn't that interested. After high school, the duo attend college in California and just stay. They travel the world, both separately and together, she as a travel writer and he as a production assistant on the sets of nature documentaries. He buys her an engagement ring from a sidewalk vendor in Barcelona. They build a life of  happiness and adventure, filled with airports and shampoo in tiny bottles and passports that need extra pages added. And it all ends abruptly on the morning of their first wedding anniversary, when Jesse's helicopter goes missing in Alaska. Although his body isn't found, the bodies of his colleagues are, and Jesse is presumed dead.
Emma is absolutely gutted. She ends up moving back to be with her parents in the small town she swore she'd never return to. But gradually, she heals. 4 years on, she's just become engaged to Sam, a high school friend. They share an apartment, own 2 cats. He's a music teacher, and she's taking piano lessons. Emma finds herself not only running her parent's bookstore, but absolutely content to do so. She gets on well with her sister now. Although her life looks exactly like what she dreaded as a teenage, she loves it. Then one evening at a dinner celebrating her father's birthday, she receives a phone call telling her that Jesse is still alive. He survived, amazingly, and he's been found. He's on his way back to her.
Emma will have to choose. Is she going to be again the adventurous woman who couldn't wait to see a new place and experience a new culture? Or will she remain contently at home, in love with Sam and her two cats, planning a family, building the bookstore business and seeing her parents, sister, and twin nieces on a regular basis? She comes to realize that her  choice is not really between Jesse and Sam, but between the two versions of herself–who she was, and who she has become.
One True Loves deals with the fact that rarely is there only one person whom we can truly love. It takes a woman thrust into a terrible dilemma complete with complex emotions of joy, guilt, and confusion, and looks at how she can come to a conclusion that will in the long run be best. A light summer read with enough emotional depth to keep the reader engaged to the gripping end.