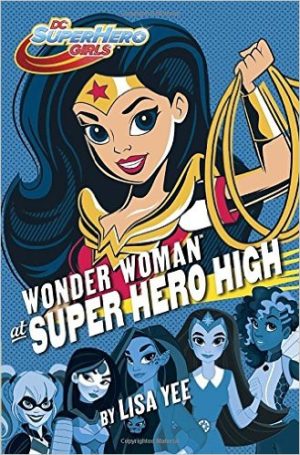 Wonder Woman at Super Hero High by Lisa Yee is the first in the new DC SuperHero Girls series focusing on how super heroes navigate the waters of high school just like normal teens. Well, sort of like normal teens.
Wonder Woman has never before left Paradise Island, and her naivete shows as she comes to Super Hero High for the first time, somewhat against her mother's wishes. She's vaguely reminiscent of Amelia Bedelia in her over the top lack of understanding of social norms and phrases. Though she has Internet access and more back on Paradise Island, she's unfamiliar with the concept of a handshake or how to greet people.
As the newest student at Super Hero High, Wonder Woman wants nothing but to become the best super hero she can possibly be. The pressure she puts on herself to succeed – internalizing a need to be the absolute best and not let her mother down, though this has never been something her mother said of even hinted at – is typical of the struggle so many teens face, and as Wonder Woman learns that success as she thinks her mother defines it isn't truly what her mother expects.
The rumor at Super Hero High is that Mandy Bowin had been expelled to make room for Wonder Woman, so does Mandy want revenge? That's just one of the subplots encapsulated in the fast paced 240 page book that includes many super heroes we're all familiar like Hawk Girl as well as, interestingly, many who will "grow up" to be villains, many of whom are actually pretty decent kids in this first book of the series.
I will admit that as an adult, this wasn't my favorite book. The complete innocence of Wonder Woman from not understanding when people were being mean to her to thwarting "attacks" as people walked up to her because she didn't get that this is just what people do go old after awhile, as she never seemed to actually learn. That said, my kids – in the target 8-12 age range – enjoyed the book and were more forgiving of some of the flaws I saw.
The message in it is great, that people aren't always what they seem, that you have to solve your own problems sometimes rather than avoid them, that adults are there to help and mentor you (so go talk to them!), and more are ones that as a parent I can lecture my kids on until the cows come home but not have it sink in. When they see it "for real" in a book like this, it is the reinforcement that I need.
It is a quick and fun read with more plot twists and subplots than you would expect from such a short book (it may be 240 pages, but the type and spacing is fairly large), and the next novel is nicely hinted at near the end. When Supergirl at Super Hero High comes out next month, I know my daughter especially will be picking this up to read, as well.
Written by Michelle of Honest & Truly! who sometimes wishes she had her own super powers. Instead, she shares food, tech, and travel on her blog Honest & Truly! and on social media where you can find her as @HonestAndTruly on Twitter, Pinterest, and Instagram.