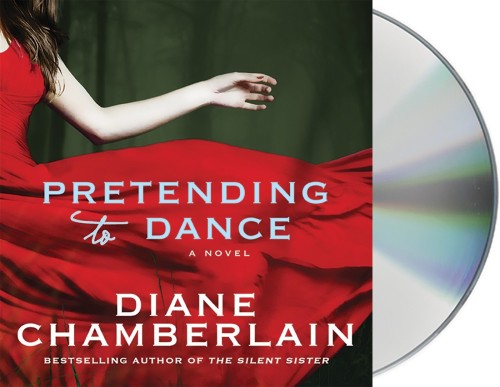 I've greatly enjoyed the books I've reviewed by Diane Chamberlain — The Silent Sister was one of my favorite books I read last year — so when Macmillan Audio sent me a copy of Pretending to Dance, I knew it would go into the rotation.
Molly and her husband Aiden are in the process of applying to adopt a baby. After losing a pregnancy at 20 weeks, rendering her unable to have children naturally, they turned to adoption. During the home interview, questions about their families come up, and Molly begins to worry that lies she told Aiden about her past would come out, destroying both her marriage and their chance to adopt.
Flashback to Molly at age 14. Her father, Graham, is immobile in a wheelchair due to Multiple Sclerosis, but Molly believes he still lives a relatively happy and pain-free life. She enjoys working with him, typing his notes and pages for his books about "pretend" therapy, on their family land in rural North Carolina. All of Graham's family live on the land — his mother, brother and sister and their families, and Amalia, who is Molly's birth mother. When the family, including Graham's partners at his therapy practice, begin having family meetings, Molly is more than happy to skip them, in favor of spending time with her friend Stacey, the only one of her friends around that summer.
It's clear to the reader that the family meetings are about more than just Graham's brother wanting to sell off parts of the land, but Molly is so wrapped up in her own life that she has no clue. Stacey is trouble — her mother doesn't really care what she does — and gets Molly involved with older boys and drugs. Molly also begins questioning Amalia's presence in their lives, pulling out pieces of the story from her father, who encourages her to talk to Nora, the mother who raised her.
Pretending to Dance mostly takes place during that summer of Molly's 14th year, with the occasional flashback to the present and Molly and Aiden's journey to adoption. The only family member Molly is in touch with is her cousin, who gives her updates via email on Amalia as she begins experiencing health issues. Molly must decide if she can tell Aiden the truth about what happened during that fateful summer, and find it in her heart to forgive Nora for an unspeakable act that occurred so long ago.
At times Pretending to Dance felt more like a YA novel, with teen angst, young love, and the dumb mistakes that come along with them. But Chamberlain has a way of weaving together an intricate plot with sympathetic characters that kept me listening.
Notes on the audiobook:  Pretending to Dance is read by Susan Bennett, who also read The Silent Sister.  I enjoy listening to her reading a story and never find my mind wandering.