First, let me say that even having a Christmas list before Thanksgiving is unheard of around here. I try to jot down ideas as they come to me throughout the fall months, because by Thanksgiving, I will have family members asking for suggestions, and I'll be trying to make my giving plans as well.
Kyle is eleven years old. Here in Texas, 6th grade is middle school, and that puts him firmly on the cusp of leaving childhood behind. Just hours after I had been jotting notes on my laptop about possible ideas, he began brainstorming out loud and then grabbed a sheet of loose leaf paper and a pencil and began writing furiously, giving me explanations at times.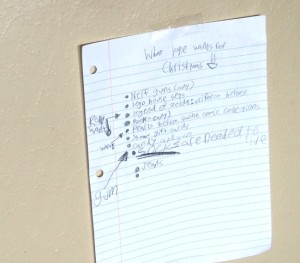 I wasn't surprised at first, and in general I was quite pleased with the fact that I had already thought of many of the items on the list. When he suggested "books," my book-loving heart skipped a little beat. He explained that he liked to have books around that he might want to read over and over again, and so any books that I or my friends thought were good would be great ideas. Then I noticed that he had another book on his list as well, a comic anthology (read my earlier post about how comics helped him fall in love with reading).
Please keep reading to find complete post at 5 Minutes for Mom today.