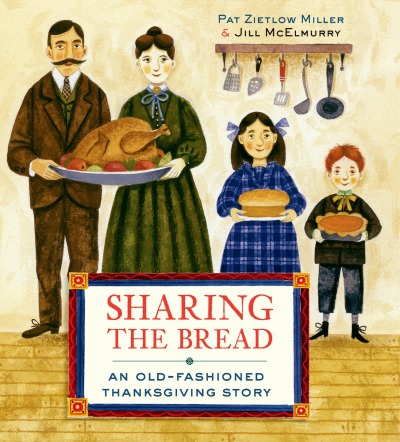 Food brings the family around the table, and to many, no holiday compares to Thanksgiving when it comes to a delicious spread and the gathering of loved ones. A new picture book by Pat Zietlow Miller called Sharing the Bread: An Old-Fashioned Thanksgiving Story transports young readers to 19th-century America, showing how some things haven't changed very much in all those years.
Beginning with Mama, Daddy, and two young children, the family gathers ingredients and materials for starting the big dinner. An older brother, grandparents, and an uncle and aunt join the mix, each preparing another part of the meal. Even a baby does her part… by staying quietly asleep in a basket bassinet in the corner of the large room. The spirit of family and teamwork is beautifully portrayed in Jill McElmurry's illustrations. Done in gouache paint, they give a good feeling for the way in which people lived back then, from the homestead and its contents, to the ways a large dinner would be prepared.
A simple rhyming pattern flows through the book, giving the text a sing-songy feeling and lending some predictability for children to pick up on and participate in a read aloud. Even the illustrative style has an old-fashioned look to it, with realism for the time period. Sharing the Bread would make for wonderful reading in the home or classroom setting as Americans prepare for Thanksgiving and other seasonal holidays, connecting the past with the traditions we still hold dear today.