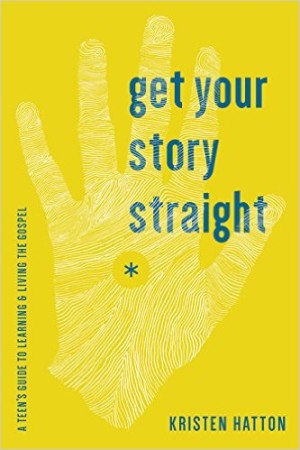 I am such a fan of inductive Bible study. I've done it on my own, I've taught groups of women to do it, and last year, I even worked up a weekly Bible study to help my junior high girls at church do it. I don't think any of them are still doing it, but for that 8 weeks, they learned that they could read the Bible themselves and figure out what God was saying to them. It's an amazing skill to have, learning to make applications yourself from reading any passage of scripture.
In Get Your Story Straight: A Teen's Guide to Learning and Living the Gospel Kristen Hatton teaches teens how to study the Bible themselves, but she does it in a way as to also guide them into learning more about who the God who created them is.
Each week focuses on one scripture passage (another feature I love, since repetition and looking at a passage in many different ways is a great way to learn to apply and understand the Word).
The first day presents the scripture and asks some basic questions to help the reader understand and apply
The second day is generally some sort of commentary or devotional application
The third day asks some personal questions about the scripture passage
The fourth day goes "back to the Word" to connect those personal applications with scripture
The fifth day is journaling and prayer.
I would think that each lesson (maybe excepting the first week) could be done within 15 minutes or so, an easy way to establish a great habit. I think this would be a great book for middle schoolers and high schoolers, but honestly anyone could benefit from this type of approach.