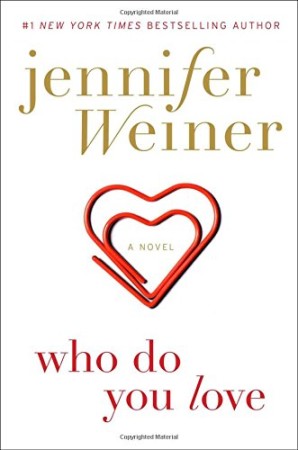 Jennifer Weiner first hit the shelves 14 years ago with Good in Bed, the first in a long string of novels about women dealing with weight, relationships, and family issues in a funny but realistic way. Her latest novel, Who Do You Love, follows the on again-off again relationship of Rachel, a Jewish girl from Miami, and Andy, a biracial boy from Philadelphia.
Rachel was diagnosed with a heart defect at birth and has gone through countless surgeries. During one of her hospital stays, she's bored and roaming the hospital, and comes across a boy her age by himself in the emergency room with a broken arm. She keeps him company until his mom finally arrives, telling him stories and making him laugh. Years later, while attending a service workshop helping to build houses, Andy recognizes Rachel, and the two become inseparable during the week.
After returning to their prospective homes and high schools, they stay in touch, finally seeing each other again when Rachel convinces her grandmother to stop in Philly during a trip to Europe. They continue to date each other exclusively during college, with Andy attending school on the west coast thanks to a running scholarship, and Rachel at an upper class Virginia college. They break up when they realize they are in different places in their lives. They spend years apart, before being thrown together again, and then once again separating. But Rachel is never far from Andy's thoughts, and she often wonders what could have been.
Rachel and Andy come from very different backgrounds, Rachel's parents are wealthy and supportive, if a bit over-protective due to her heart condition. Andy was raised by his mom, with a teacher acting as a stand-in for the father he believes has died. He starts running to get out some anger issues, and makes some poor decisions when his running career begins to wind down.
Who Do You Love is told from Rachel's first person point of view and Andy's third person. The story alternates between Rachel's present, where she's recovering from her marriage ending, and their pasts, both together and apart. Their issues with communication, as well as perspectives on what has happened to keep them apart, are very believable and typical of relationships.
Content Warning: Those who've read Weiner's previous books won't be surprised by the sometimes explicit sex scenes. Rachel and Andy come of age together and their sexual exploration is part of that.
Notes on the audiobook: Who Do You Love is read by Sarah Steele and JD Jackson, who are both new to me. Sarah captures Rachel's upperclass Jewish background perfectly, and JD brings Andy to life.