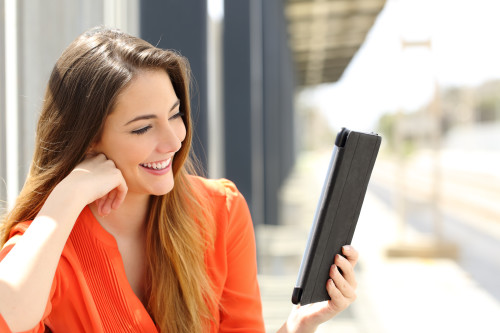 I was intrigued by a recent report by the New York Times that digital book sales are down for the first time in 5 years, invalidating the prediction that e-books would overtake print books by the year 2015. Higher prices for digital books, along with smartphones and tablets replacing e-readers, are mentioned as reasons for the reverse migration back to print.
I've had a Kindle for several years now, but contrary to the article's declaration, this is the first year that my reading has been predominantly digital books. A big part of this is because many publishers are now making review books available in digital format, as well as programs like Amazon's Kindle First and the continuously increasing library catalog of digital books.
Recently, as part of the reading challenge I'm participating in, I decided to read A Little Princess by Francis Hodgson Burnett, a much beloved book from my childhood. I still have that paperback copy I read over and over, and when I pulled it off the shelf it was the first time I've picked up a print book since May.
While reading, I remembered the many reasons I prefer to read on my Kindle:
It's difficult to read a print book while eating, especially if you need 2 hands to do so. I can just prop up my Kindle, use a single finger to push the Next button, and happily eat and read.
Read my full post at 5 Minutes for Mom, which also includes 5 more reasons why I prefer ebooks and some of my rebuttals to those who say why they enjoy paper books better. Let me know if you agree or disagree with my thoughts.