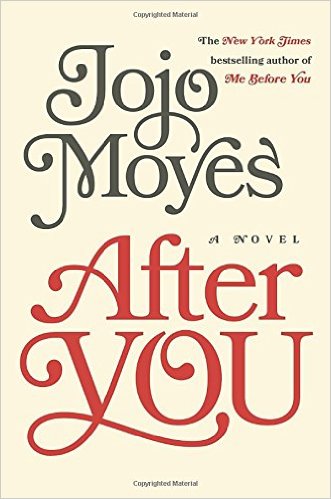 I read Me Before You when it first came out in paperback a couple of years ago. I enjoy JoJo Moyes' fiction a good deal, and this one was no different, though it had a much more "chick lit" sort of feel to it than some of her other novels.
I remember liking the protagonist Louisa and the small-town English setting, so when I heard there was a sequel, After You, I was interested in checking it out.
I began reading without refreshing myself on the original story. I remembered Louisa. I remembered her job caring for the young man who was a quadriplegic, Will, and the love she developed for him. But I didn't remember how it ended, so I just trusted After You to fill me in. It did. Honestly, I think you could read the books in either order and feel just as satisfied.
This novel focuses on loss and continues the theme from the other novel of unmet expectations, whether those expectations are put on you by yourself or by others. Several of the characters experience a reinvention in this novel. Louisa is constantly evolving, but her empty-nester mom makes some significant changes as well.
Louisa is trying to figure out how to move forward in her life when a teen girl shows up on her doorstep. If Louisa's family (in particular her judgmental sister) think she is a mess, they certainly haven't seen Lily. Louisa steps in to try to help her, but she's not sure she can, or should. This is the probably the central crisis of the novel. Can Louisa help Lily? Should she? The answer to this question affects all of her other decisions — her job, her family, her love life. Seeing them work together really defines Louisa as a character.