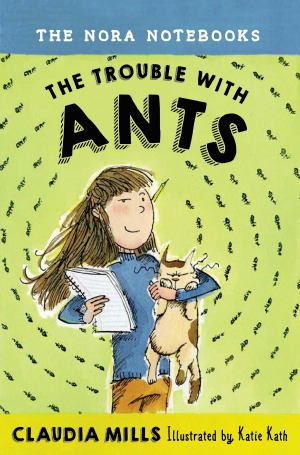 She may only be in fourth grade, but Nora Alpers is serious about many things. First, she believes in the power of science, and she wishes more children, especially girls like her, appreciated and pursued it. Secondly, ever since learning that an eleven year old girl was published in a scientific journal, she becomes intent on breaking that record at the age of ten with her own research on ants. Even in the face of challenges, Nora works hard in Claudia Mills' new middle grade novel The Nora Notebooks Book 1: The Trouble with Ants.
Nora introduces readers to the word myrmecologist early on, as it is her desire to become this type of scientist as an adult– one who studies ants. As an amateur myrmecologist, Nora has kept ants in an ant farm for several months, collecting specimens from her own backyard after an initial attempt at ordering a colony went awry. (A spilled container of stinging ants did not go so well for creating a farm, along with not pleasing her mother very much!)
The daughter of two scientists, Nora is very practical, inquisitive, and observant, not just with her interest in ants, but in many aspects of life. She speaks about the culture of her school, especially of the interactions between boys and girls in her fourth grade class, with a scientific tone at times, which was amusing to me as an adult, even more so as the mother of a fourth grade girl! Nora doesn't always feel like she fits in with some of the stereotypical behavior of some of her female classmates, especially of the uber-"girly", cat-loving Emma and the girls who follow her lead. But, Nora does act respectfully of her classmates, even when they have very different perspectives, and when a persuasive essay assignment is given by their teacher, Nora takes the opportunity to try to convince her classmates of the lure of science.
As with some of Claudia Mills' other middle grade chapter books (linked to some of our reviews), this book is likely best aimed at children on the younger side of middle grade fiction, in the 8-11 age range. Nora is an interesting protagonist, and one who I believe is important for both young girls and boys to read. My own 9-year-old daughter is quite aware of differences in expectations for girls and boys, and I believe that the budding feminist in her (meant strictly in the sense of equality for the genders) will appreciate Nora's push for more involvement in the professional sciences by females. Nora's character is passionate about her beliefs and interests and motivated to learn, qualities that are important models for children of any gender identity!
Illustrations by Katie Kath are interspersed throughout the book, giving life to some of the other characters in the book, too, and each chapter ends with a special ant fact shared by Nora from her experiences and research. Another winning book for young readers from Claudia Mills!