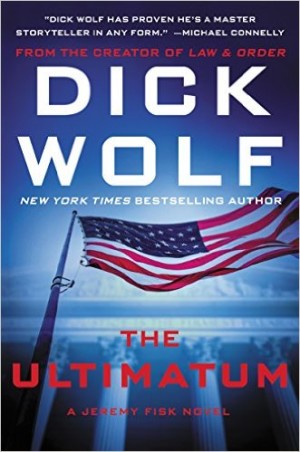 When I read The Execution by Dick Wolf (and reviewed the second Jeremy Fisk novel last year), creator of NBC's Law & Order series, he had me hooked with Detective Jeremy Fisk and his no holds barred focus on finding the bad guys and stopping them, even if it means breaking a few rules along the way. He's back in The Ultimatum, the third installment in this series. Once again, there are bad guys out to make New York City their playground, and it's up to Fisk to stop them.
Verlyn Merritt has released a horde of sensitive information about the NYPD Intelligence Division – of which Fisk is a member – via WikiLeaks and has far more that he hadn't uploaded when he was arrested for the leak of confidential information. Given Fisk's background, he quickly has hired killers literally on his doorstep. Of course he foils those (or the book would quickly be over), but that's only the beginning.
It wasn't just Fisk's address that was published on WikiLeaks. His bank information and more are also compromised, meaning someone is enjoying expensive toys thanks to his credit cards and bank accounts. Fisk has to go completely off the grid, as it becomes clear that the hired killers aren't the only ones out to get Fisk.
Even better, a sniper with scary good aim has started stalking New York City, killing a single person each day. He announces in newspaper comments that he will continue to kill one person a day until Verlyn Merritt is released from prison, and of course Fisk is on the job. Against his will, he is partnered with Chay Maryland, a journalist who had been working with Verlyn Merritt and may have some insights, a well as the ability to get Verlyn to answer some questions.
It quickly become apparent that the daily sniper victims are being targeted uniquely. They are killed seemingly randomly, but once someone is killed in their apartment in away that would be impossible aim from anywhere a person could be standing, Fisk puzzles out that the solution is someone flying an unmanned drone.
New York is already frozen by fear of the daily killings, and knowing about the drone would push them over the edge. Not telling puts innocent lives in danger every day Fisk – and his compatriots within law enforcement – don't solve the mystery. The book is gripping, and as with The Execution, I couldn't put it down.
Fisk remains a bold character who has his own sense of justice and little patience for those who simply want to CYA and do things by the book when it means not finding the answers they seek. His moral code may not be identical to mine, but I sympathize with him completely and turn each page as quickly as I can to see how he can possibly find a way to move forward. It isn't a surprise that Dick Wolf has won multiple Emmy's and has such a long running successful tv show. He knows how to put together gripping material that keeps you coming back for more.
And me? I'm looking forward to seeing what Detective Fisk has up his sleeve next.
Written by Michelle of Honest & Truly! who is fascinated by the idea of drones but glad this is a book and not real life. See what her own real life looks like as she shares on her blog Honest & Truly! and follow along with her on Twitter where she is also @HonestAndTruly.