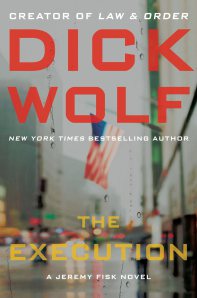 Dick Wolf's has come back with a second Jeremy Fisk novel, The Execution. This picks up where the first novel left off, though you do not need to have read the first novel to enjoy this book, as it merely hints at previous action without going into detail. In this installment, Fisk is still on desk duty after the incident with the terrorist Jenssen who he had captured in the previous book and working on UN Week in New York. Simultaneously, Comandante Cecilia Garza of the Mexican Federal Police is getting closer to tracking down the mythic Chuparosa who has left another 23 headless bodies near the US border.
Garza is one of the few incorruptible police officers in Mexico, and her former law professor – who has just been elected the Mexican president – is working on wooing her to his services. He brings her with him to New York for UN Week, where he is planning on signing a meaningful anti-drug treaty with the US president. When Garza hears that there has been a murder of 13 people dumped at a beach, all beheaded, she connects with Fisk who isn't interested in helping her.
Fisk has been called into the murder because it involves Mexicans during UN Week, but it isn't officially his case. He nonetheless becomes intrigued as he investigates further and reluctantly teams up with Garza to determine what deeper plot is brewing. Fisk's superior has no interest in Fisk moonlighting away from his UN assignment and keeps trying to pull him back while the obvious romantic tension between Fisk and Garza continues to grow.
The book itself is an ok read. The best scenes were the prologue and first chapters where Fisk is near the US/Canada border attempting to stop Swedish Muslim terrorists from sneaking into the US and the climax of the book. Between this, it takes some time to reconcile the two storylines and sets of characters into a cohesive book, and the character depth is somewhat ignored in terms of setting up the remainder of the book.
Dick Wolf comes from a television background where he is behind the four Law & Order series, and television formulae and scripting is apparent in this book. That doesn't make it a bad book, nor does it keep the reader from enjoying this thriller, but there are definitely portions of this over 300 page book that make it feel like you are watching one of his hour long television shows.
There is some interesting aspects to the characters that are nuanced at the end of the book, and my hope is that Wolf is now hitting his stride as a writer where the next novel in the Fisk series (and it is apparent from the end of this book that there will be another) continues in this vein. With that premise, I intend to pick up his next book once written and – when my reading pile diminishes somewhat – to read his first novel The Intercept, as well.
Written by 5 Minutes for Mom contributor Michelle who adores international intrigue and wishes she lived abroad again. See how her life compares to an international thriller via her blog Honest & Truly! and follow along with her on Twitter where she is also @HonestAndTruly.