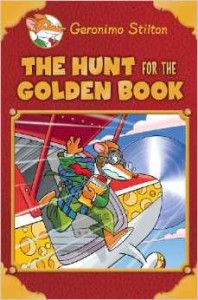 My children are still obsessed with Geronimo Stilton. They have read nearly every book in the series, as well as the spinoffs. The Hunt for the Golden Book is the 57th book in the original series, and it celebrates Geronimo's 10th anniversary as an author. As always Geronimo and his family are engaged in a madcap adventure where he is pushed around by everyone who cares about him.
The illustrations make the book a delight to look at, and between the pictures and the fun fonts used for words on every page make this book a great one for reluctant readers. It is a fun read, and simple enough in terms of plot that younger readers can easily engage in it while there is enough hilarity and action to keep older elementary school readers also entertained. I appreciate that new words are explained in the book so that it isn't overwhelming, and other aspects, like how a book is made, are explained in call outs throughout the book.
In this adventure, Geronimo's overbearing grandfather has found out that the girl he had a crush on when he was younger will be in town that week, and he wants to impress her. He insists that Geronimo throw a huge party celebrating his 10th anniversary and publish a book  in that same timeframe that chronicles his rise – and of course gives all credit to his grandfather. Magically, Geronimo is able to churn out the book, but when his laptop goes missing, he must go in search of it to retrieve his manuscript in time.
This book is somewhat shorter than many others in the Geronimo Stilton series, but after the actual book, there is a mini-mystery book where Geronimo is sent to a lake to get the scoop on the mysterious loch monster that his rival Sally Ratmousen has discovered. Something is fishy, and it isn't the loch. Clues are provided along the way as Geronimo has to puzzle his way into gaining an edge over Sally, and it is a cute, quick read.
It is nice to have two different books within the same book, as I feel like it gives kids the confidence to read thicker books once they realize what they've accomplished, yet breaking it into two separate books (with pages of corny jokes at the end) makes it far more manageable. I do wish that Geronimo at some point would stick up for himself and become a character to look up to more than he is, but that doesn't stop my children from adoring this series and devouring each book that comes their way.
Written by 5 Minutes for Books contributor Michelle who only wishes she could write and publish a book in under a week. See what she's writing about this week on her blog Honest & Truly! and follow along with her on Twitter where she is also @HonestAndTruly.