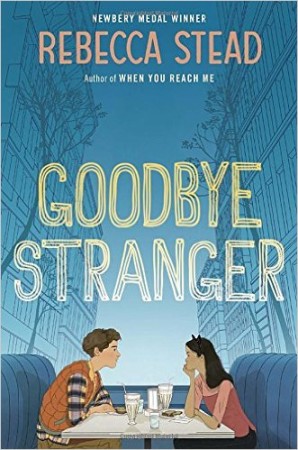 Fans of Rebecca Stead's other novels will enjoy Goodbye Stranger. I think it's targeted to a slighter older audience. Since it deals with boys and girls sending "pictures" to each other, I would recommend it to 7th and up. The topic is handled in an appropriate way, but it's just not something that would be relevant to my 11-year-old, though it might well be to other kids.
The main theme of the book is friendship. As happens in junior high, girls (and boys) change. Some develop curves, some become interested in boys, some become interested in social justice. But Bridge, Tab, and Em are able to keep their friendship together through all the changes.
The story is advanced in the way Stead does in many of her novels, with details being given sparingly, and narratives that seem somewhat disjointed. That's another reason that I'd recommend this for an older middle-grade reader — because it's just a more mature style. There are also things that aren't really resolved and discussed to death, like why Bridge insists on wearing cat ears her whole 7th grade year, and why she finally decides to stop.
In addition to Bridge's narrative, there are two others that provide those little details and lead to lots of pondering — Sherm is writing letters to his grandfather, and an unknown character is sharing events from Valentine's Day, as we learn a bit more about her story and try to figure out who she is and how she fits.