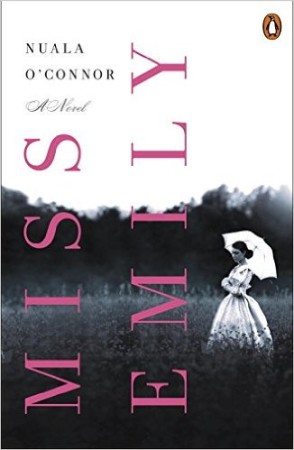 I enjoy historical fiction, especially that which is rooted in the real life of a character or a specific event in time. I know that it's not true, but I enjoy the speculation and the author's intent to fill in the gaps in a way that might be possible.
Miss Emily is a look at Emily Dickinson from award-winning short-story author Nuala O'Connor. We get to know Miss Emily just as Ada Concannon does, when she comes over from Ireland to work there at her Aunt Mary's recommendation.
Their friendship is sweet. Emily spends time baking with her, and Ada seems to understand her, so when something bad happens to Ada, Emily jumps to her rescue. There's a bit of suspense in this otherwise character-driven novel.
I enjoyed the snippets of Dickinson's poetry, but more often she quotes other poets who she read: Longfellow, Bronte, Eliot, Browning. It did up my curiosity and make me resolve to read more poetry.
This trailer evokes the book quite well.
It was a little slow-paced, but like Miss Emily herself, there was a warmth that came through the pages. I became invested in Emily and Ada, learning (at least speculating fictitiously) what might have increased Emily Dickinson's tendencies to be alone and housebound over the years. Inventing the character of Ada to come alongside her as a friend and an impartial observer was a great way to bring her story to life.
I do always wonder how much is fictitious and how much is based somehow in fact. The author answers these questions in A Conversation with Nuala O'Connor