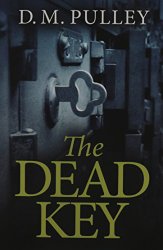 Ok you guys, this is a great book. If you want some late nights (you know you do!) where even after you reluctantly turn off the light and try to sleep, your mind keeps racing with possibilities, you'll want to add The Dead Key
to your TBR immediately. Put it on the top.
The basic premise is this. The First Bank of Cleveland, an imposing and beautiful old building with 15 floors, was abandoned suddenly one day in December 1978, its doors locked against allegations of fraud and strange disappearances by staff members. Now, 20 years later in 1998, Iris Latch, a young engineer already bored with the cubicle, is sent to map out the floor plan of a building where vending machines are still stocked with 5-cent Tabs, and desks still have pictures and other personal items on them, mute reminders of a past locked in place. Even the personnel files are still there, stacked in a dusty cabinet by some long-gone secretary. Iris finds it more than creepy, but anything's better than the already dead-end job she feels she's in, still stuck living like a college student, getting drunk on weekends and living in the cheapest place she can find. And she keeps finding clues, leading to something–a hidden door in a false wall, a suitcase of clothes left in a closet, and keys, keys to vaults and safety-deposit boxes and cabinets and more.
Meanwhile, the story is following another heroine–Beatrice Baker, a 16-year-old who passed herself off as 18 so she could get a job in the secretarial pool at the Bank in 1978. Beatrice doesn't have it easy. Small and lacking confidence, she has recently moved in with her aunt, who tutors her in how to get the job but isn't exactly warm and helpful overall. The story follows both women as they separately come to the realization that all is not as it should be, and that large forces are moving under the surface. Moving back and forth between the two protagonists, the action builds and builds, as more things are revealed. It's immediately obvious that something rotten is going on, but the suspense is masterfully done and almost unbearable. It's best if you can block out some time when you start this book; if not, prepare for some late nights. (Aside: I love these kind of late nights.)
Friends disappear, angry voices shout behind closed doors, and keys to open safety-deposit boxes in the vaults can not be found. Both women separately find, and need, the tunnels that run down into the sewers and lead to safety. Both have a hard time knowing who can be trusted. It's fun following Beatrice's story and then seeing Iris making discoveries that dovetail in, 20 years later.
And ultimately, it's all one story, and comes together in a smashing conclusion.
The Dead Key
is just really fun to read. It's not a perfect book. I didn't especially like the character of Iris, who needs to stop drinking so much and not sleep with co-workers. Beatrice is so very helpless that it's painful sometimes, although she proves herself in the end to have the necessary strength to pull through. There's some sex and plenty of language (well, there pretty much always is, right?). But from the opening pages, the reader is pulled in to a tale that proves to have the staying power to keep you involved and committed. In case you can't tell, I loved this book. Highly, highly recommended.