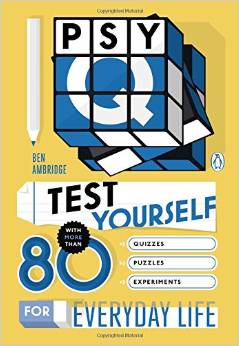 I have always been interested in personality types, birth order influences, and how people think and react. So when I was offered the book Psy-Q: Test Yourself with More Than 80 Quizzes, Puzzles and Experiments for Everyday Life, I jumped at it. I thought it would be fun to do and to share with my kids, maybe on a road trip or vacation.
And that's exactly what we did on our Spring Break driving trip. It was fun reading out the dilemmas or scenarios giving us a choice, and hearing how the kids would respond. Then there was a high-level analysis of what the choices meant, occasionally sharing other relevant studies in human behavior. The fact that 10 year old Kyle rated as having psychopathic tendencies on a couple of them doesn't worry me at all. Ahem. Seriously, he's 10, and he still thinks in terms of me me me, and if an adult acts that way, they are antisocial or unhealthily self-obsessed.
What made me know this was a good book was seeing my son reading it when he woke up each morning (while we waited for the teen to arise). He actually selected it over his fantasy novel. I thought he was just flipping through, but he actually read it cover to cover! Note: this is not a children's book, and there are questions about self-image or choosing a partner, or even the interpretation of the Roschach test that mention sexuality, but hopefully they were filtered through his tween mind in an age-appropriate way.
There are tests that look at creativity, motivation, motive, and just moral scenarios. The quizzes and queries were fun and interesting, and the break-down of what your response might mean was even more fun.
I don't think I'd recommend handing it over to your 5th grader, but it is really fun to pose the queries to friends and family members and see what kind of choices they make, and then seeing if you agree with the why behind it.