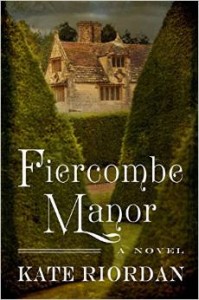 In 1933, women simply did not have children out of wedlock. When Alice finds herself pregnant after her one – and only – experience with the married man she was dating, her parents are filled with shame. Alice's mother arranges to send her away to Fiercombe Manor where she can have the child in secret before returning to London to give it away in Fiercombe Manor by Kate Riordan.
Upon arriving at Fiercombe Manor where Alice is to do light work to assist the housekeeper for the noble family that no longer lives on the ageing family estate, Alice is surprised by how different it is from what she had expected and what she knows. She's fascinated by Elizabeth, a former mistress of Fiercombe Manor mentioned in the only book she found that includes Fiercombe Manor before moving there. Mrs. Jelphs, the housekeeper, is tight lipped and shares little, which only deepends Alice's interest in the past that seems so unusually shrouded in mystery.
Alice's cover story of having recently lost her husband and needing to get away from the city and her grief to bear her child is accepted by everyone she meets, but it feels somewhat foreign to Alice. As she explores Fiercombe Valley and discovers the summerhouse with Elizabeth's pencil written diary, she fears that there is something wrong with the house or valley.
The book flashes back periodically thirty years to when Elizabeth Stanton was the lady of the house and having her own challenges, having borne a daughter but no heir to the Stanton line, only miscarriages that have drowned her in grief she can't fully remember. Mrs. Jelphs was then Elizabeth's trusted ladies maid, but her story is only slowly teased out and helps to create much of the tension and drama to add to that of Alice's.
Strange things happen to Alice, especially when she goes to visit the grounds of the house build by Elizabeth's husband that was demolished within ten years. Alice is alternately frightened to dig deeper into the past and fascinated by a woman who seems to have had it all yet is now never mentioned. She makes friends with the town's historian, which helps fill in a few holes, as well as the son of the current Stanton heir.
Alice's sweet naivete is a pleasure to read, and her reactions are so often the same that I would have – hiding what she found from Mrs. Jelphs because she wants to keep digging and learning and chafing at the restrictions put on her "for her own good" that she doesn't understand. The book doesn't devolve into paranormal silliness, which helps keep my interest in the book and the characters as it continues to take itself seriously.
It's an enjoyable book, though it does start slowly. Alice is a wonderful character, and I found myself wanting to know more and more about Elizabeth, concerned for her and how she would handle her own pregnancy. Fiercombe Manor did occasionally want to wander genres, but that didn't stop it from being a book I returned to again and again to read just one more quick chapter.
Written by Michelle of Honest & Truly! who would so love to have a manor house of her own filled with history. She creates her own history in her 1925 house, however, and shares it on her blog Honest & Truly! You can also find her on Twitter where she remains @HonestAndTruly.