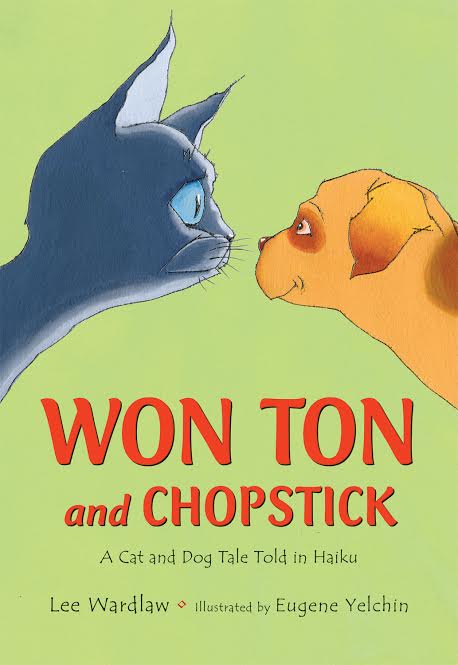 Think way back to elementary school for a minute. Do you have memories of creating haiku, counting out the syllables of words on your fingers to make sure that you met the 5-7-5 pattern? Lee Wardlaw's new picture book Won Ton and Chopstick: A Cat and Dog Tale Told in Haiku tells the story of a happy cat whose content life is suddenly disrupted by the arrival of a new dog, and it does so in a series of haiku that reflect the cat's various emotions.
We were first introduced to the shelter cat who was adopted by a loving boy in 2011's Won Ton: A Cat Tale Told in Haiku, which portrayed the Siamese cat Won Ton as tough, but vulnerable, and definitely in need of some love. When we meet up with Won Ton again, it's clear from the very first poem that Won Ton is living the good life, adored and cared for by his beloved Boy. But the appearance of a variety of strange new toys leaves Won Ton curious while foreshadowing the appearance of the new puppy that has joined the family. What a thing for a cat to discover right after a nap!
It's not easy for Won Ton to accept this new furry guy, and even if Boy and Sis pick a name like Chopstick, Won Ton insists on dubbing him Pest and treating him as such, too. Puppies can get into a lot of mischief, but poor Won Ton can end up taking some of the blame, adding insult to injury. But there are soon signs that perhaps a truce (or even something more?) is on the way and that Boy has more than enough love to go around.
Having grown up with cats and dogs who likely could have narrated very similar stories to Won Ton's, I couldn't help but feel all warm and fuzzy inside when I saw Eugene Yelchin's illustrations, especially a particularly cozy one that came near the end of the tale. Wardlaw captures a funny, but still emotionally vulnerable tone in Won Ton's voice in the haiku here, adding even more heart to the story.
Technically, as the Author's Note informs readers, these poems are better classified as senryu (SEN-ree-yoo), a different type of Japanese poetry that is similar to the more familiar haiku. The number of unrhymed lines (three) and total syllables (seventeen, in the 5-7-5 format) remain the same, but while haiku focuses on a moment in nature, senryu looks to capture something else. "In senryu, the foibles of human nature– or in this case, feline and canine nature– are the focus, expressed by a narrator in a humorous, playful, or ironic way." Playful, indeed, and quite fun to read aloud, perfect for poetry of all kinds.
Looking to add to your kids' library? How about a copy of both Won Ton and Won Ton and Chopstick? Enter to win using the Giveaway Tools widget below!
Also, be sure to check out the online resources to accompany Lee Wardlaw's books:
Check out our current giveaways. Subscribe to our feed. Follow us @5M4B on Twitter or on Facebook. Pin away with us on Pinterest.