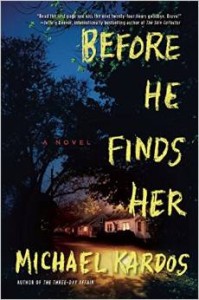 At the end of September in 1991, Ramsey Miller threw a block party, although there is some doubt around the circumstances. What everyone does know, however, is that at the end of the night, Ramsey Miller burned his wife to death and drowned his three year old daughter at sea. That is the part everyone knows for sure in Before He Finds Her by Michael Kardos.
The only problem is that what everyone "knows" is wrong. That three year old daughter didn't die at her father's hands. Instead, she was swept away to a tiny town in West Virginia to be raised in secret by her Uncle Wayne and Aunt Kendra in the witness protection program. Now 18, Melanie Denison has started to chafe at some of the restrictions her aunt and uncle place on her.
Not only has she started to take classes at the local community college after arguing that she couldn't simply learn to repair cars from her Uncle Wayne, but she is secretly dating and "stealing" time away from her aunt and uncle. She knows that there have been periodic sightings of her father from the letters from the FBI that her uncle has hidden, and she is focused on trying to understand what happened and find her father before he finds her.
When she takes off to Silver Bay on the Jersey Shore to dig up answers, Melanie doesn't know exactly what to expect other than she knows she needs to track down the newspaper reporter to dug most deeply into the horrific murders before he passes away. Arthur Goodale may be in the hospital, but his brain works just fine. He helps Melanie track down some of the main players in the tragedy, not knowing that she is Ramsey Miller's supposedly murdered daughter but knowing something is fishy about her story of being a reporter following up on the 15 year anniversary of the murders.
As Melanie investigates, she comes to realize that things aren't quite as they seem from her then weatherman neighbor who is now a heavy duty anchor in New York to the band buddies of her dad's, one of whom is her Uncle Wayne. As she continues to push for the truth, it becomes more and more apparent that the story she's been told is as inaccurate as what has been published in papers for a decade and a half.
The book fluctuates between telling of Melanie's investigation and Ramsey Miller's point of view in the weeks prior to the murders. It is an interesting juxtaposition to see the logic of the villain of the piece and develop sympathy for him, even as it is leading up to what you know is a brutal murder.
I couldn't put this book down. In 368 pages, I rooted nonstop for Melanie to figure out what really happened that night while at the same time regretting that I understood and even felt sorry for Ramsey Miller, as much as I wanted him to make other choices and keep away from the path I knew I was coming.
The twists and turns were by turn frustrating and heartrending and painful and frustrating. And so very human. It has aspects of a mystery and a thriller to it, as well as a coming of age novel, making it one that doesn't fit into a single category but doesn't need to either.
Written by Michelle of Honest & Truly! who is grateful to have no family drama in her life anywhere near that scale. See the different kind of life she leads as she shares it on her blog Honest & Truly! as well as on Twitter where she is also @HonestAndTruly.