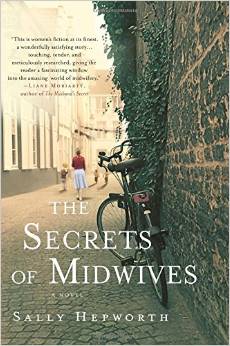 The Secrets of Midwives by Sally Hepworth tells Neva's story. She's a 3rd generation midwife. Although she shares a profession with her mother Grace and grandmother Floss, as expected when you get three generations together, they also have several differences. Neva is a fiercely independent single, 29-year-old woman. She's hiding a baby bump — 30 weeks along — under her loose-fitting scrubs. Her mother and grandmother don't know and are surprised and hurt that she hid it from them. Neva didn't want anyone to interfere. She's keeping the identity of the father a secret, and she knew that it would be even harder to do once her pregnancy was revealed.
It turns out they her mother and grandmother are hiding secrets of their own as well. Grace's has to do with some trouble with her job. Floss's is a long-buried secret from long long ago, and when it comes out, it will affect everyone in the family.
The story was definitely pulled along with bits and pieces of both Neva's and Floss's stories. The more we learned about each of the character's secrets, the richer they became as characters and as women: mothers, daughters, wives.
I've read a couple of novels featuring midwives, and it makes an interesting backdrop for a novel. I always enjoy learning about a new place or It is especially interesting to see the differences in the 3 generations. Floss did it when that was the way most people had babies. Grace is staunchly anti-hospital and doctors for this part of a woman's life, and Neva works in a hospital birthing center, occasionally alongside physicians.
This novel is a cross between a family saga and light women's fiction. It made for an enjoyable read for me. Check out other books featuring midwives in the related links below.