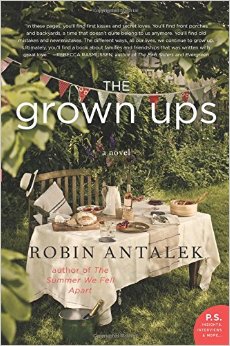 The summer that Sam is fifteen, all of his neighborhood friends catch a virus. After Suzie's birthday party, it went rampant through his entire group of friends, and while everyone thought that was horrible, no one could have predicted what would follow in its wake. The dissolution of not one, but two marriages, and with the departure of one family, the revelation that there were more than a few secrets going on in the neighborhood. Robin Antalek's latest novel The Grown Ups is a heady emotional tale that follows a handful of characters over several years.
As teens, Sam and Suzie's brief relationship, if you can use that term for two kids hanging out in secret and engaging in some heavy make out sessions, serves different purposes for each of them. Sam thinks he's found his first real girlfriend, and readers get an early glimpse at his growing understanding of his own emotions. Suzie, however, is coming to this relationship from a different perspective and with a different purpose. Though the time they shared together was quite brief, the effects of that summer as a whole will stay with them for many years to come.
In fact, the novel follows Sam and Suzie, along with Sam's brother Michael and Suzie's best friend Bella, for the next fifteen years, with only a few years elapsing between each new chapter. Their lives continue to intersect with a mixed bag of emotions in play each time. The time between adolescence and early adulthood is fraught with new experiences, good and bad, and they find themselves coming together again and again, seeing each other through times of familial and personal distress, though each character approaches the demands of adulthood in a different manner.
Reminiscent of Meg Wolitzer's The Interestings (linked to my 2012 review), The Grown Ups takes on fewer years and focuses on a small subset of a group of teens in its telling, but it shares a thematic purpose in showing characters transition from teens to adults, facing challenges in their relationships with friends and family members. Delicately told, with careful attention to the emotional development of the central characters, this novel truly touched me.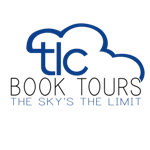 We're happy to be participating in the TLC Book Tour for The Grown Ups. Check out all the stops on the tour to hear other book bloggers' opinions of the book.
Check out our current giveaways. Subscribe to our feed. Follow us @5M4B on Twitter or on Facebook.